A Day In the life of a RHYTHM108 Pâtissier
It's 3.30am and the sounds of a rooster's morning call rings in Marcel's ear and wakes him up. The snow outside fully blankets a small garden, which is filled with an abundant vegetable patch of potatoes, tomatoes, peas and endives every summer. He gets up, tip toes across the pine floors careful not to wake up his wife, and splashes his face with warm water. His face – a map of his history – his angular profile, and the scar on the right side of his forehead, are a testament to every day in the last 27 years he has woken up at the break of dawn and made patisserie. Every pot of bubbling caramel that has burnt his skin, and every tonne of dough he has lifted – has shaped him. Marcel is a traditional patissier, but these days he gets up to do radical things.
Think of Switzerland, and along with these spectacular landscapes, you will think of chocolate and finely crafted watches. This is the home of some of the finest artisans in the world – this is a place where chocolate is not just a quick treat, it's a way of life. Walking through the streets of Geneva, you feel this long-lived tradition on full display. Chocolate shops line the main street near La Confederation – there's Auer, a small shop with gold guilding and counters, and plush maroon walls and tiles – known for their Princesse Amandes, or lightly caramelized almonds covered in a thick layer of sweet dark chocolate and finished with a dusting of cacao – with every piece made in-house. Several others with their own specialities and heritage stand proudly – each with their founding date – Since 1883! Since 1932! Since 1817! – printed on their shop windows, with tourists and locals alike purchasing delicately ribboned boxes every hour of the day.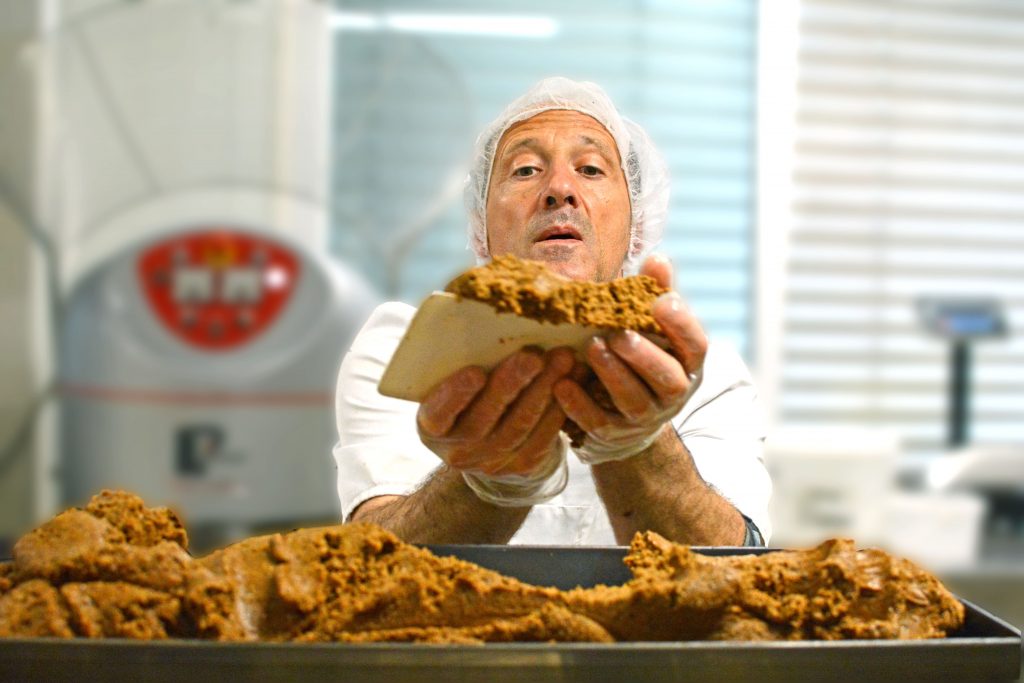 Patissiers like Marcel use their skills to reinvent your favourite treats but with a twist
Whilst chocolate consumption is steady, you also notice something different – something slightly out of place – on the main street. A string of healthy cafes filled with coffee connoisseurs and smoothie drinking youth dots every hidden crevass on the main street. The industrial pallet wood across coffee counters and wrought iron table legs look slightly out of place between these guilded, marbled chocolate shops. But they are slowly replacing the old traditional tea rooms that used to line these streets.
With health at the forefront of everyone's minds (and Switzerland has always been known for its wellness spas too), every small chocolate "laboratoire" and artisan in the region is wondering what their future is. Mastered over many generations, with the average apprentice taking years to graduate – who's going to hold and practice their long-lived tradition?
Marcel is one of these artisans – his life as a patissier has seen him travel to far places like Taiwan, South Korea, and Australia where he's worked for glamourous five star hotels and small Michelin star restaurants, charming everyone with his perfectly buttery, airy croissants and his equally impressive, bubbly personality along the way.
He started young, training as an apprentice pastry chef in his parents shop back in the 70s. Clocking on at 3am, and sometimes working 12 hour days in their family bakery, he tirelessly tried to master the seemingly impossible task of working with pastry. A slight change in humidity, ingredient supply or temperature meant starting over again. This is not something one can learn in a short time, this is years of work based on a feeling, and an impressive dexterity, learning how to move your hands and work the dough into its desired state. This was a challenge that Marcel fully committed to for over 20 years.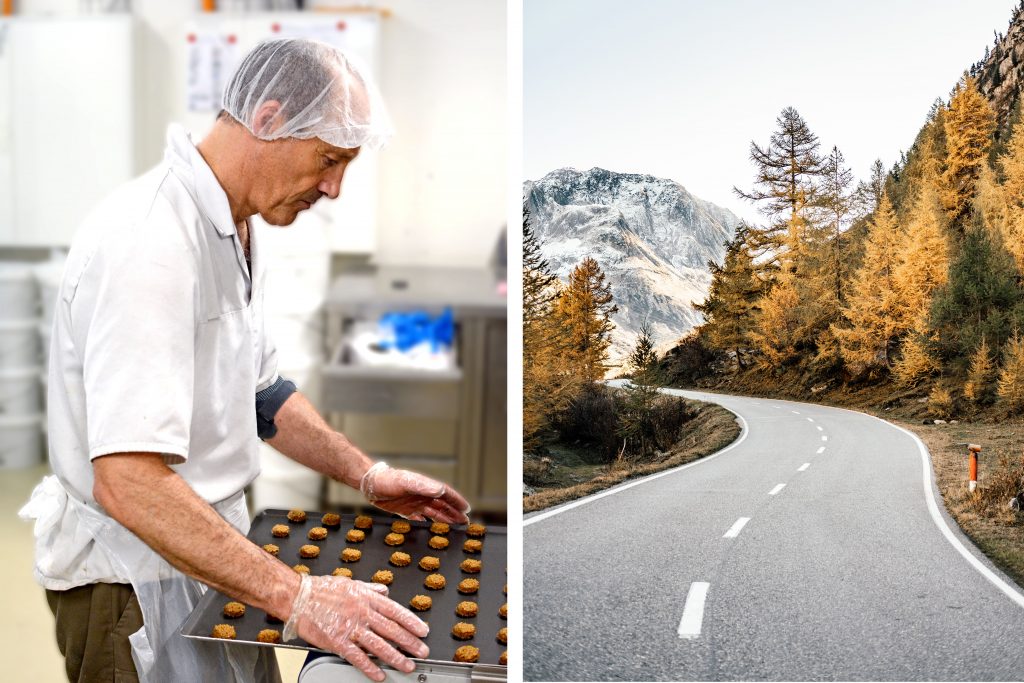 Then something changed. With globalisation and cost pressures, the restaurants downsized, and the hotels started buying frozen pastry. So he came back to Switzerland and joined RHYTHM108, a small company that takes this Swiss know-how and craftsmanship and creates decadent treats with a twist – plant-based, organic, and wholesome. He's one of a few patissiers who have taken up a new challenge – he's using his know-how to create the best products for modern values. Refined wheat flour is replaced with whole grain oats, butter with pure coconut oil, and processed flavourings with high quality fruit and flavourful, hearty nuts. The company consists of a full team of patissiers like Marcel, and bakes every day in their small 'laboratoire' on the foothills of the Swiss Alps. Specialists like Marcel bring their know-how to every product. From biscuits made with oats and coconut oil (and no palm oil!), to vegan chocolate candy bars that remind us of childhood Bounty's and Mars bars but contain almost half the sugar and an ingredient list we can understand – innovation is key to RHYTHM108's success and growth. They even make Easter truffle eggs with a plant-based ganache and are working on a better-for-you French madeleine.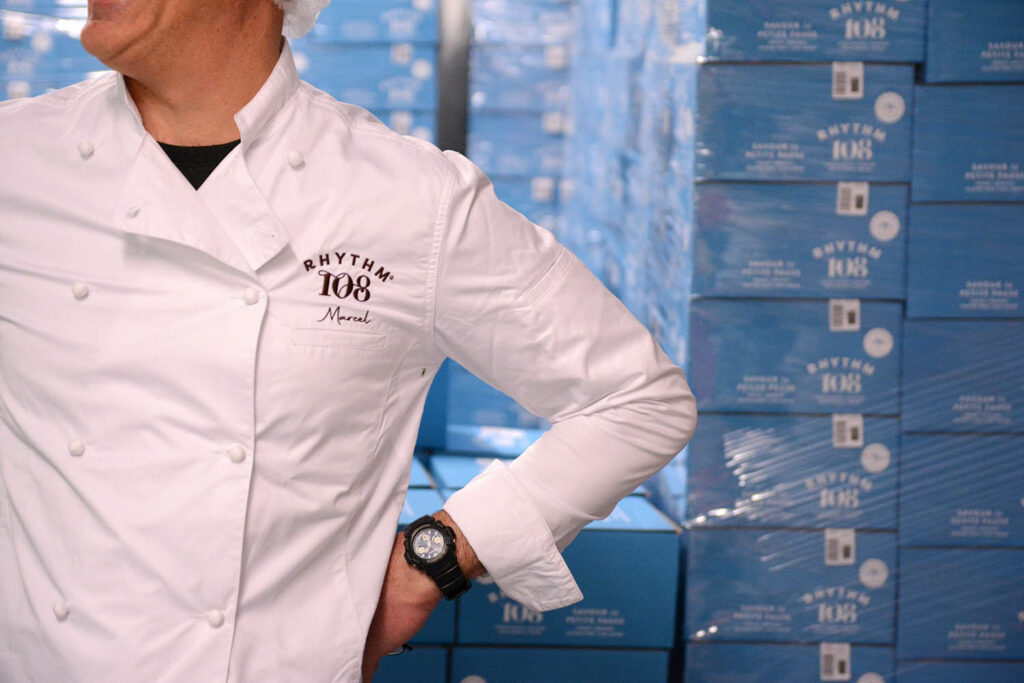 This morning, Marcel and his colleague Julien, started at the bakery at 4.30AM, measuring 800kg of oat flour, 900 kilos of chopped almonds, and 600 kg of coconut oil for an 'new' Almond Biscotti. They are the creators of this amazing recipe which tastes just like the real thing. But today there is too much humidity in the air and the biscuits are spreading. They usually cream the coconut oil and coconut flower sugar first, before slowly mixing in the flour, but they've decided on something different – to change the order of the ingredients and put the dough in the refridgerator to rest for a little longer so the fat can hold it together longer while baking. A regular biscuit producer would have depended on an emulsifier or a fat like palm oil that is stable over a wider range of temperatures to standardize the recipe completely. They adapt the process, and depend on the intuition and dexterity they've mastered over 20 years, to get the same Almond Biscotti every day.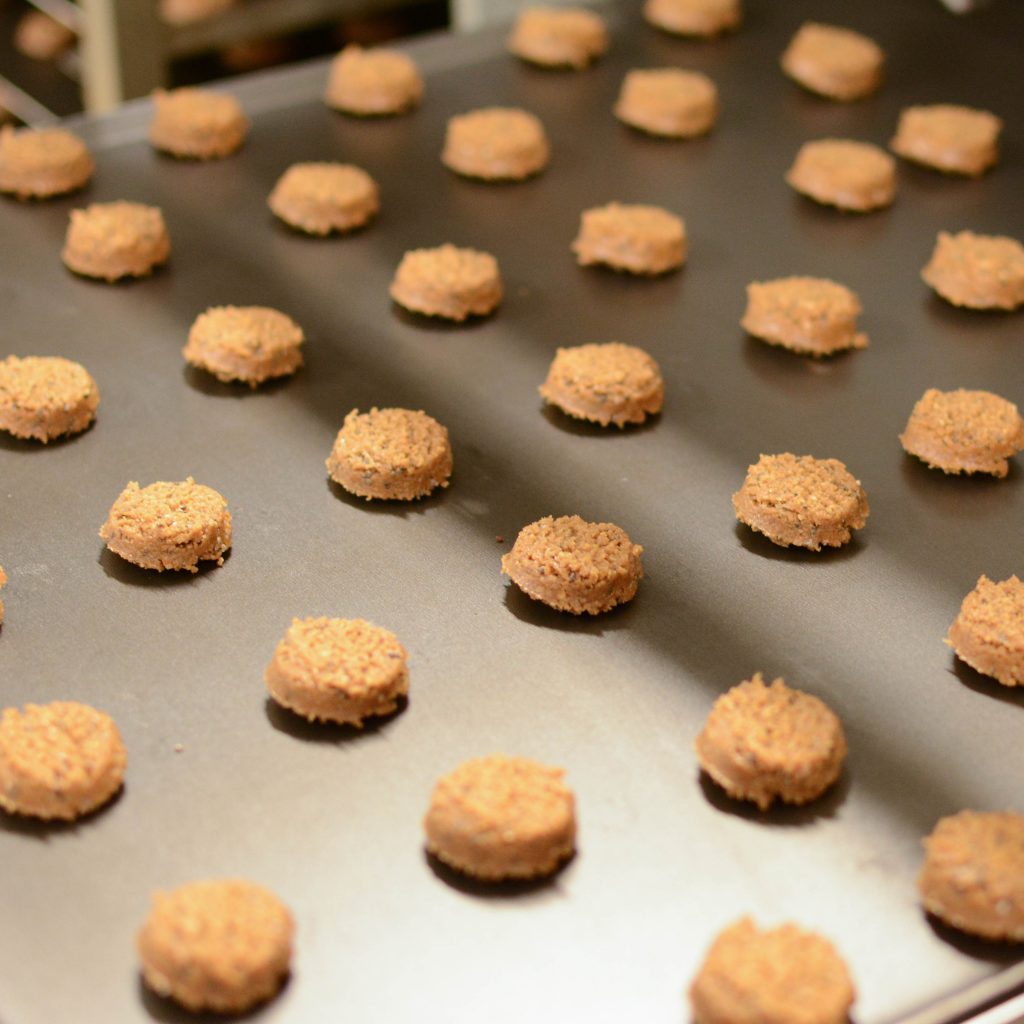 It wasn't at his first, or even his second tray he was happy with his creation today. Like a scientist, he empirically tests and methodically tweaks with controls and variables until its perfect. But eventually he and his team get it right – and finish the day baking over 50,000 cookies to send to a client.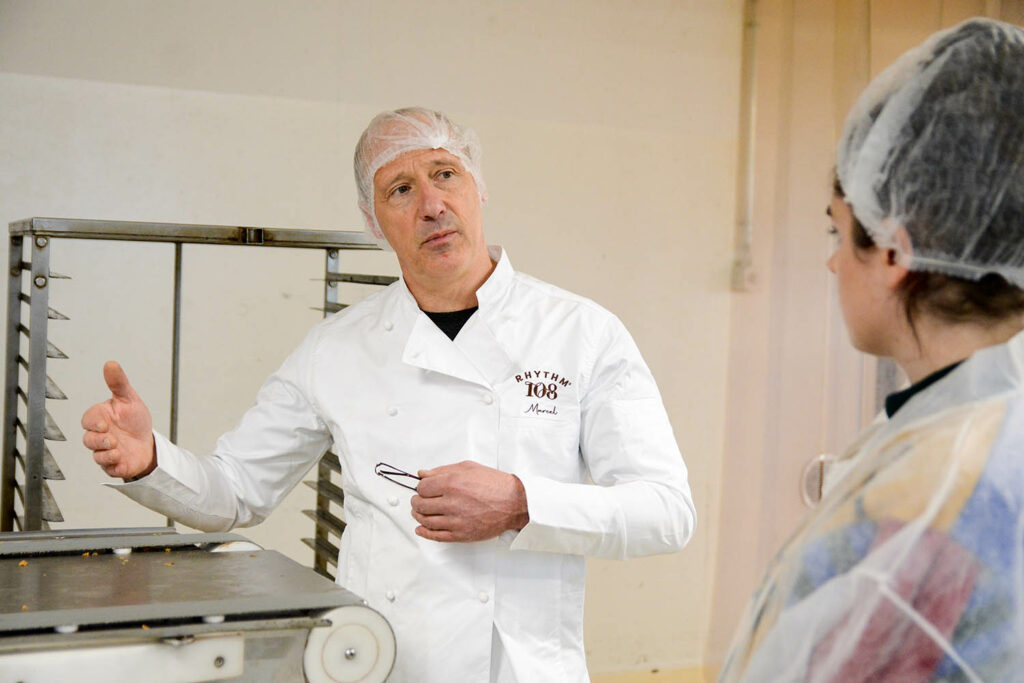 Marcel and his fellow patisseirs have joined a wave of people carrying tradition into the modern world – one where care for the environment, care for quality rather than quantity, fair treatment of all stakeholders, and positivity – is at the forefront. These values are starting to disrupt all industries – from fashion, to media, to even services. But as the world changes at lightspeed, it seems more important than ever to also hold on to the best of what we have from our past. This movement looks as if it's here to stay, and its torchbearers like Marcel who are taking it forward.
To celebrate our amazing collaboration with British Bake off Star Freya Cox we sat down with Freya and asked her a few questions to get to know a little better.
Read More