We're celebrating the launch of our new M'lk & Hazelnut Truffle Chocolate bar with this chocolate chip cookie recipe. They're super quick and easy to make and delicious too, of course! Perfect for a simple Sunday bake.
Every recipe comes with its own Spotify Playlist (bottom of page). This weeks playlist was chosen one of our favourite Instagrammers @thecleantribe, who makes the most beautiful vibrant food, and creates her very own recipes!

Chocolate Chip Cookies
Ingredients
160

g

coconut oil at room temperature

100

g

coconut sugar

160

g

maple syrup

2

g

salt

80

g

ground hazelnuts

45

g

water

210

g

oat flour

100

g

tapioca starch

20

g

baking powder

1

g

guar gum

180

g

Rhythm 108 Hazelnut Truffle Chocolate Tablet cut into chunks
Instructions
Combine the soft coconut oil with the coconut sugar, maple syrup, and salt until it forms a whiteish emulsion.

Then gradually add all but a quarter of the water and mix to combine.

Add all the remaining dry ingredients and stir together gently.

Add a little more water if the dough is too dry. It should come together easily and but not be sticky.

Preheat the oven to 180° Celsius and roll the dough into 50 g balls.

Place on a lined baking tray and bake at 180° Celsius for 8-10 minutes.

They might look uncooked at this point, but remove them from the oven when they're still a bit wobbly so that they stay soft and chewy when they cool down!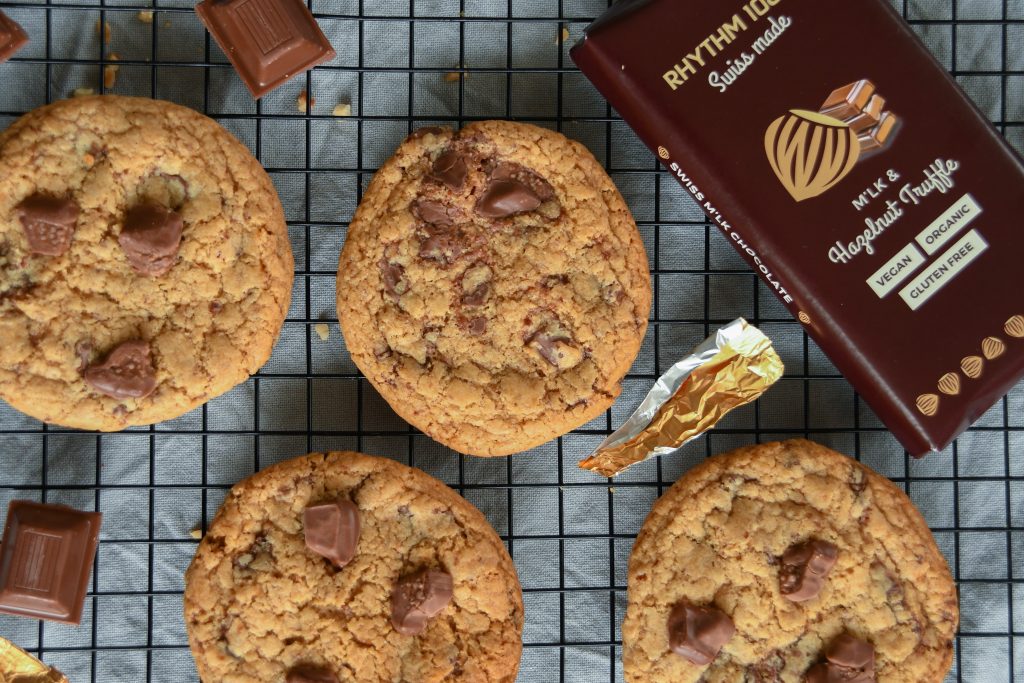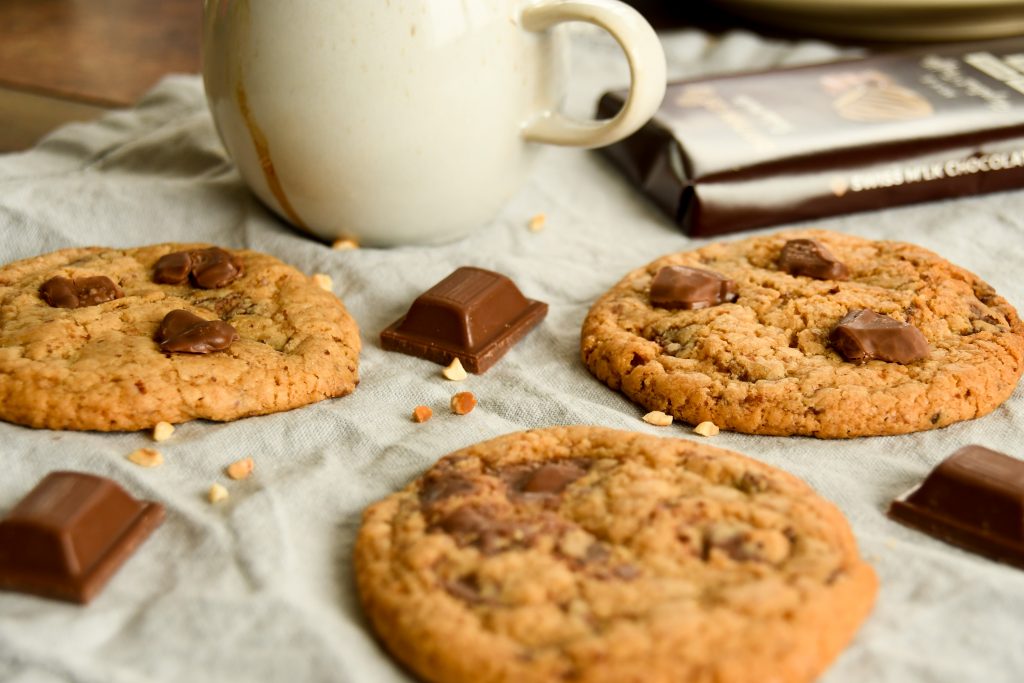 For every recipe we have a matching Spotify playlist to bake along to. Here is this week's baking soundtrack!


from a small bakery nestled on the foothills of the Swiss Alps, we use our creativity and patisserie skills to reinvent your favourite, most indulgent treats with wholesome and nutritious ingredients, so you never have to miss out on the fun!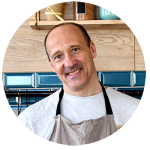 This recipe was created with love, by
Marcel started learning the art of pastry and chocolate in his father's shop at the age of 15, and hasn't stopped since! He has worked around the world on the pastry teams of Michelin star restaurants. Marcel is an expert at taking the craft of Swiss chocolate and creating new recipes for those of us who want indulgence, but with all the benefits of plant-based, gluten-free, and better ingredients.