This chocolate
fondant
is very decadent. The sponge is soft and light with a melted orange chocolate centre. It is rich in cocoa and it tastes really orangey especially when served warm just out of the oven!
It takes only 30 minutes to prepare and 10 minutes to bake, so a very easy way to make your household very happy this Christmas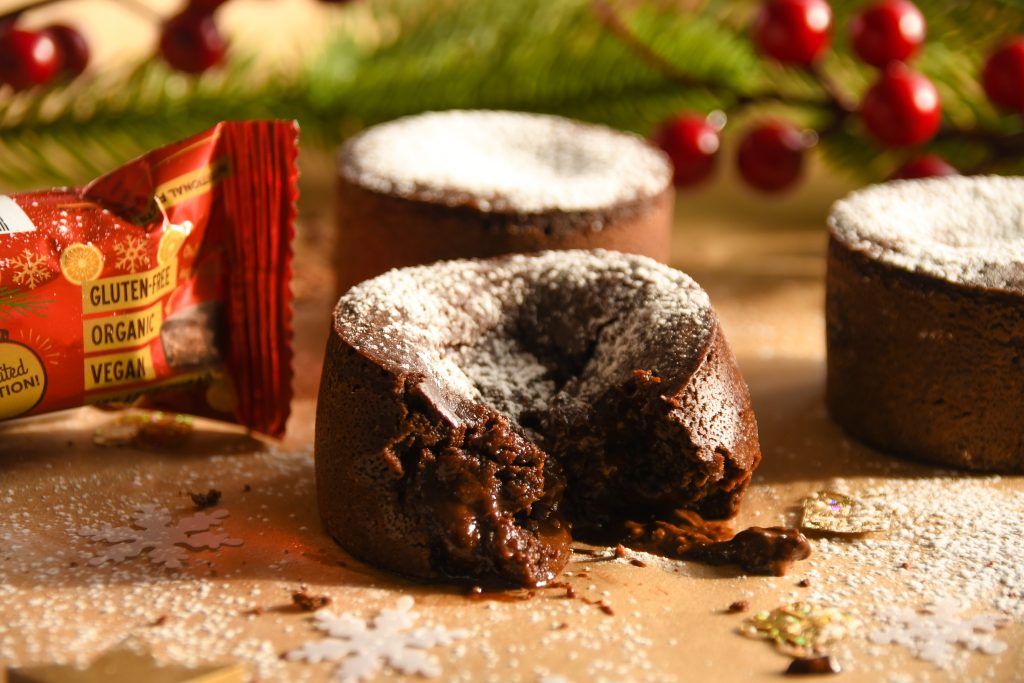 Christmas Chocolate Orange Fondant
Ingredients
5

x Rhythm108 Limited Edition Orange Chocolate Bars 33g

100

g

Dark Chocolate Chips

50

g

Coconut Sugar

90

g

Coconut Milk (canned)

90

g

Almond Milk

25

g

Rice Flour

25

g

Oat Flour

5

g

Egg Replacement Mix*

TOP TIP! If you can't find this in-store the not to worry, you can make your own! Marcel has created an easy egg replacement by mixing together:4.2g corn starch, 0.4g baking powder and 0.4g guar gum
Instructions
Preheat the oven to 190 degrees Celsius


Grease 6 ramekin dishes or silicon molds

Cut 3 orange chocolate bars into small chunks and melt gently over bain-marie with the chocolate drops.

Cut the remaining 2 bars into 3 equal chunks and set aside to use later.

While this is melting, in a separate bowl mix together the coconut flower sugar and coconut milk.

Then add the almond milk and whisk together.

In a separate bowl mix together the rice flour, oat flour, and egg replacement powder.

Once melted, take the chocolate off the heat and add the milk mixture to it.

Stir together until well combined.

Add the flour mixture to the melted chocolate and stir to combine.

Fill the ramekins with a large tablespoon of mixture, place one chunk of Orange Chocolate bar (that you set aside earlier) in the middle, and then fill the ramekin 80-90% full with more chocolate mixture.

Repeat this for the remaining 5 ramekins.

Bake in the middle shelf of the oven for 9 -10 minutes and serve immediately!


from a small bakery nestled on the foothills of the Swiss Alps, we use our creativity and patisserie skills to reinvent your favourite, most indulgent treats with wholesome and nutritious ingredients, so you never have to miss out on the fun!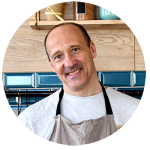 This recipe was created with love, by
Marcel started learning the art of pastry and chocolate in his father's shop at the age of 15, and hasn't stopped since! He has worked around the world on the pastry teams of Michelin star restaurants. Marcel is an expert at taking the craft of Swiss chocolate and creating new recipes for those of us who want indulgence, but with all the benefits of plant-based, gluten-free, and better ingredients.