Crêpes are a staple food here in Switzerland and neighbouring France.
We piled our plant-based crêpes high sandwiched between layers of delicious creamy coconut, drizzled with sweet orange syrup and topped with candied oranges and zest.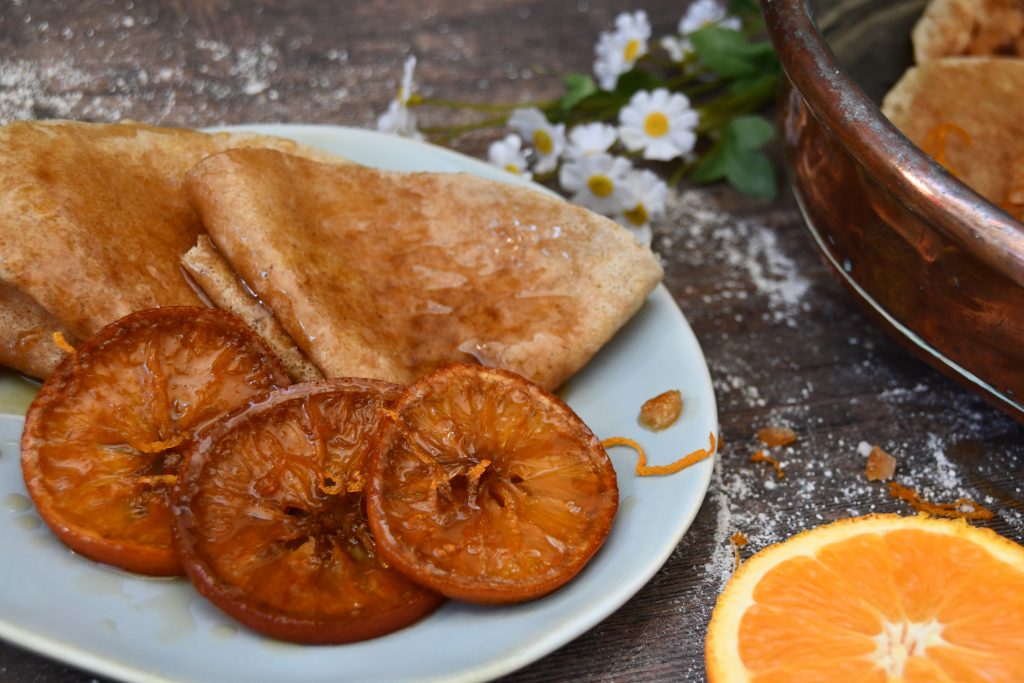 Crepes
Ingredients
Pancake Batter
170

g

oat flour

25

g

cornflour

75

ml

almond

375

ml

milk

1-2

tbsp

maple syrup

375

ml

cold water

1

Pinch

of salt
Coconut Cream
250

ml

coconut cream (the liquid type, not tinned milk)

1

tbsp

agar powder

1

tbsp

maple syrup

zest

1

Orange
Candied Orange Slices
1

large

orange cut into 1cm thick slices

250

ml

water

250

g

light cane sugar
Instructions
Pancake Batter
Weigh out the flours, liquids and maple syrup directly into a blender and whizz all the ingredients together.

It is important to let the batter rest for at least 1 hour (or overnight) so mixture settles into a smooth batter.

The batter needs to be quite thin, like the consistency of single cream, you can add more water if necessary to get the right thickness.

To cook the pancakes lightly grease a frying pan with coconut oil and set over a medium to high heat.

Once nice and hot ladle the pancake batter into the frying pan and cook for a few minutes on each side.
Coconut Cream
Whisk the agar agar powder and coconut cream together very well, making sure all the powder has dissolved, then add the maple syrup (and orange zest if using).

Put the saucepan over a medium to high heat and bring the coconut cream to boiling point, as soon as its start to bubble, reduce the heat and simmer for 5 minutes. 

Keep stirring to prevent it from sticking to the pan. After 5 minutes, take the pan off the heat and pour the coconut cream into a bowl. Once cool, pour it into a piping bag and pipe between each pancake layer.
Candied Orange Slices
Start by placing the water and sugar together into a saucepan and bring to the boil. In the meantime, cut the orange into 1 cm thick slices. 

As soon as the water and sugar starts to boil, add the orange slices and simmer gently for 15 – 20 minutes

When they start to become translucent remove the slices from the syrup and place onto a cooling rack to dry overnight.

Once dry coat them in sugar and use to decorate pancakes. 
Notes
Although we love coconut sugar we decided to opt for an organic cane sugar for our lighter touch to our candied oranges.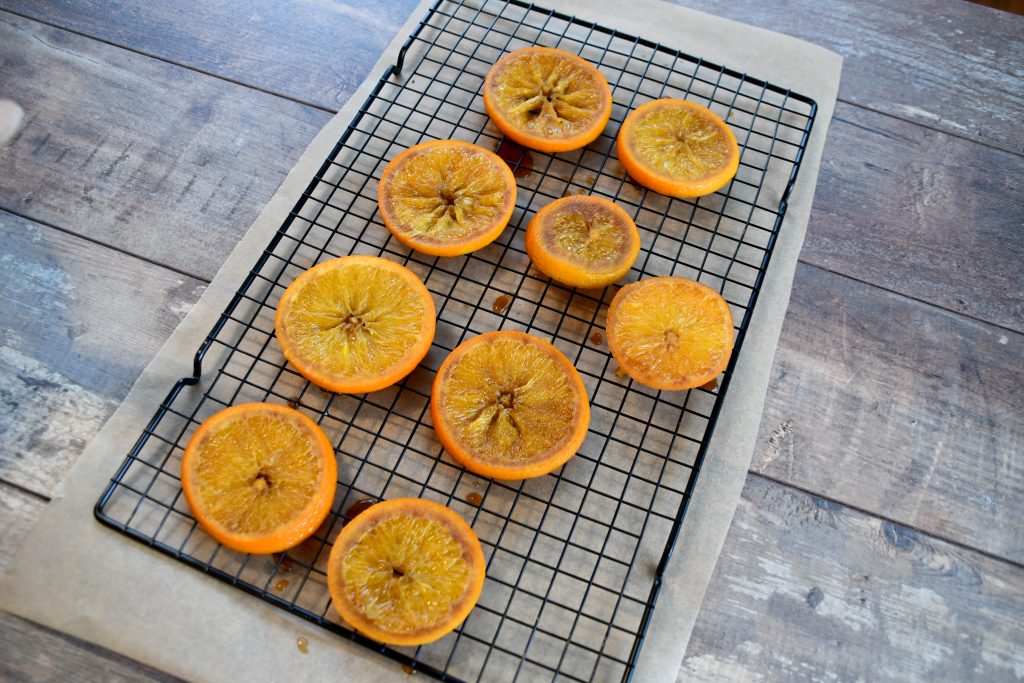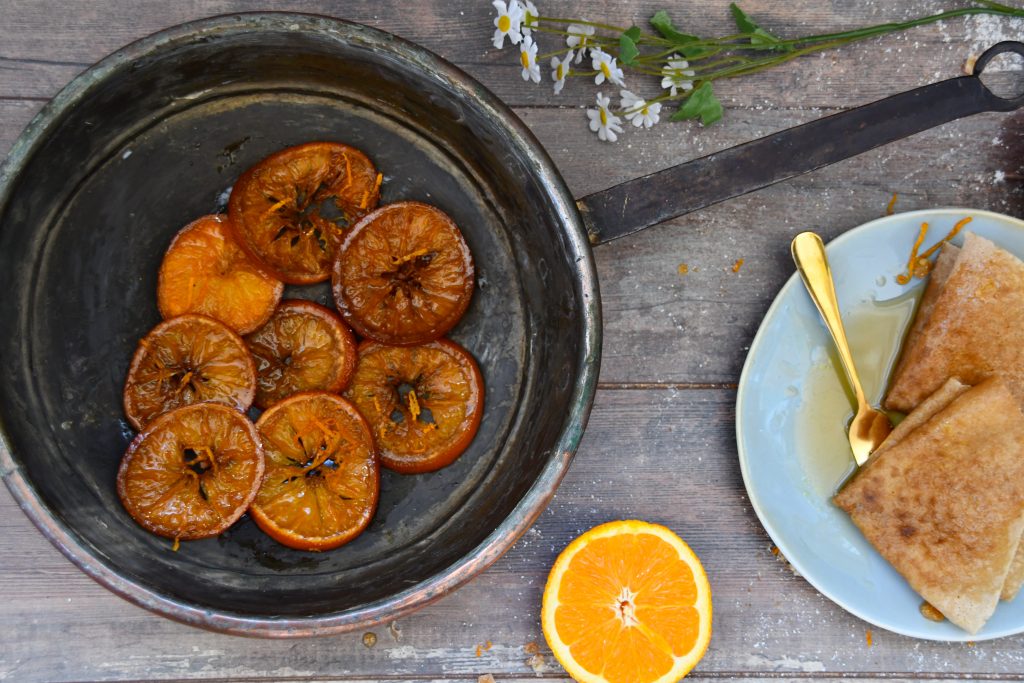 For every recipe we have a matching Spotify playlist to bake along to. Here is this week's baking soundtrack!


from a small bakery nestled on the foothills of the Swiss Alps, we use our creativity and patisserie skills to reinvent your favourite, most indulgent treats with wholesome and nutritious ingredients, so you never have to miss out on the fun!

This recipe was created with love, by
Having worked as a lead pastry chef and baker, Daphne has a passion for pushing the boundaries - she creates beautiful recipes, bringing natural ingredients into the world of pastry and chocolate making, and making sure every recipe is as delicious as it is wholesome.