It's officially the start of summer and for us here at the bakery summer means sweet seasonal fruit! Here's a delicious take on our macaron recipe: topped with raspberries and cream, these delicious bites have the perfect mix of light crisp macaron and creamy vanilla mousseline. Piled high with fresh raspberries they make the best simple summer dessert.


Fruity Macron Nests
Ingredients
Ingredients for the macaron
100

g

chickpea water

100

g

caster sugar

100

g

ground almonds

100

g

icing sugar

Natural red food colouring
Ingredients for the mousseline cream filling
300

ml

plant milk

oat or almond work well in this recipe

1

tsp

vanilla extract

50

g

icing sugar

15

g

tapioca starch
1 tsp agar agar powder

100

g

coconut oil room temperature
Natural red food colouring
Ingredients for the topping
Fresh seasonal fruit – we used raspberries and blueberries
Instructions
Method for the macaron
Line a baking tray and pencil out 20 small circles, about 3cm in diameter. Preheat the oven to 140° Celsius.

Drain the chickpeas and pour the liquid (aquafaba) into a saucepan. Place over a medium heat and bring to a simmer, reduce the liquid by 20% so that you are left with 80g.

Leave to cool and then whisk to form stiff peaks with an electric whisk or stand-alone mixer, this will take a good few minutes! It will more than double in volume and become firm. Then add the caster sugar and whisk just to combine.

Sieve the ground almonds and icing sugar and then fold carefully into the whisked chickpea water. You want the aquafaba to remain as light and fluffy as possible!

If you want to add colouring do this now and fold it in gently to the mix.

Pour the mixture into a piping bag and pipe into the circles on your baking sheet. Leave to rest for 10 minutes at room temperature before baking at 140° Celsius for 20 minutes.

Remove from the oven and leave to cool completely before filling.
Method for the mousseline cream filling
Place the vanilla extract and plant milk in a saucepan and bring to the boil. Remove from the heat and leave to infuse for 30 minutes.

In a separate bowl mix together the icing sugar, tapioca starch and agar agar. Add a few tablespoons of the milk to form a fluid paste and then whisk into the rest of the milk.

Add a drop of red food colouring at the point if you want to give the cream a light pink colour.

Put back on the heat and bring to the boil, whisking continuously until thickened. Reduce the heat to a low simmer and cook for 2 – 3 minutes, whisking continuously.

Take off the heat and pour it into a medium bowl. Cover with cling film to stop it forming a skin. Leave to one side and let cool to room temperature.

Weigh out the coconut oil and whisk for a few minutes until soft and creamy.

Once both the coconut oil and cooled milk mixture at roughly the same temperature, start to add them together gradually, whisking vigorously after each addition.

The coconut oil must emulsify completely with the thickened milk mixture. This step is essential to achieve a smooth mousseline cream!

It may separate as you mix it together but keep whisking vigorously and it will come together.

Once homogenised, cover the bowl with cling film and place in the fridge for a few hours or overnight to cool completely and firm up.
To assemble
Once the macarons and vanilla cream have cooled completely, take one macaron and pipe the vanilla cream on top, decorate with your choice of seasonal fresh berries.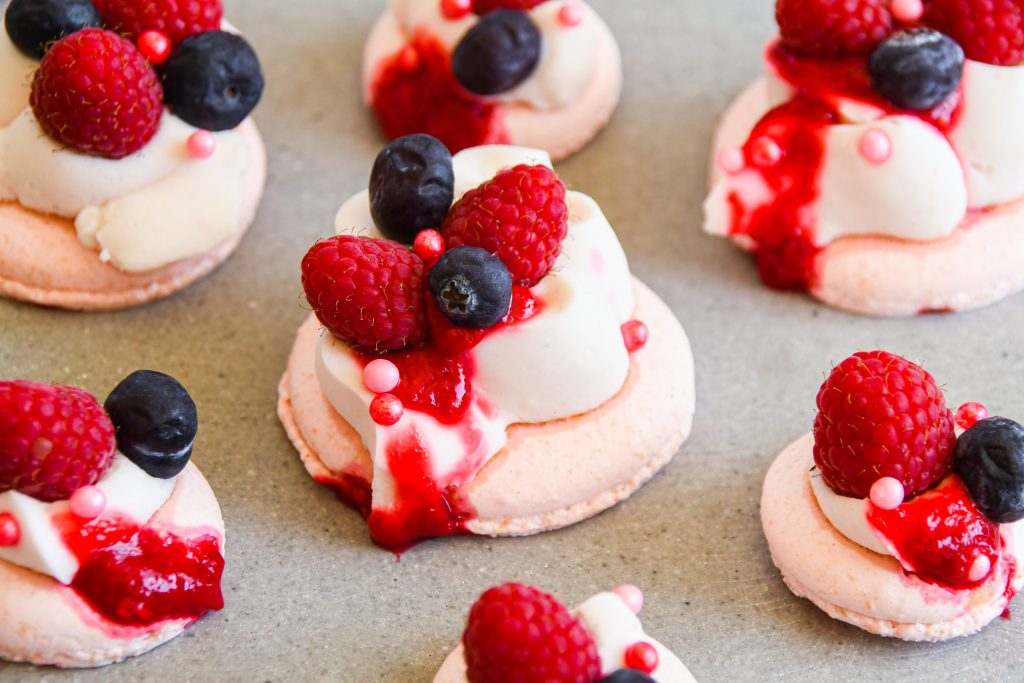 For every recipe we have a matching Spotify playlist to bake along to. Here is this week's baking soundtrack!


from a small bakery nestled on the foothills of the Swiss Alps, we use our creativity and patisserie skills to reinvent your favourite, most indulgent treats with wholesome and nutritious ingredients, so you never have to miss out on the fun!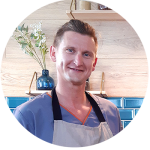 This recipe was created with love, by
Just as much of an artist as a pastry chef, Julien's creations are based on design. He deconstructs every recipe into new shapes and forms, and the results are innovative and beautiful! He is a master in production at RHYTHM108, measuring time, temperature, humidity and more with precision, to ensure every RHYTHM108 product is perfect.