There so many difference types of gâteau in Switzerland, bakeries are overflowing with beautifully hand-crafted pâtisseries, chocolates and bonbons. Here at our bakery, we've come up with our own delicious Swiss sweet treat – gâteau au chocolat ;  a perfectly buttery sablé biscuit, topped with light, fluffy chocolate mousse and smooth dark chocolate ganache.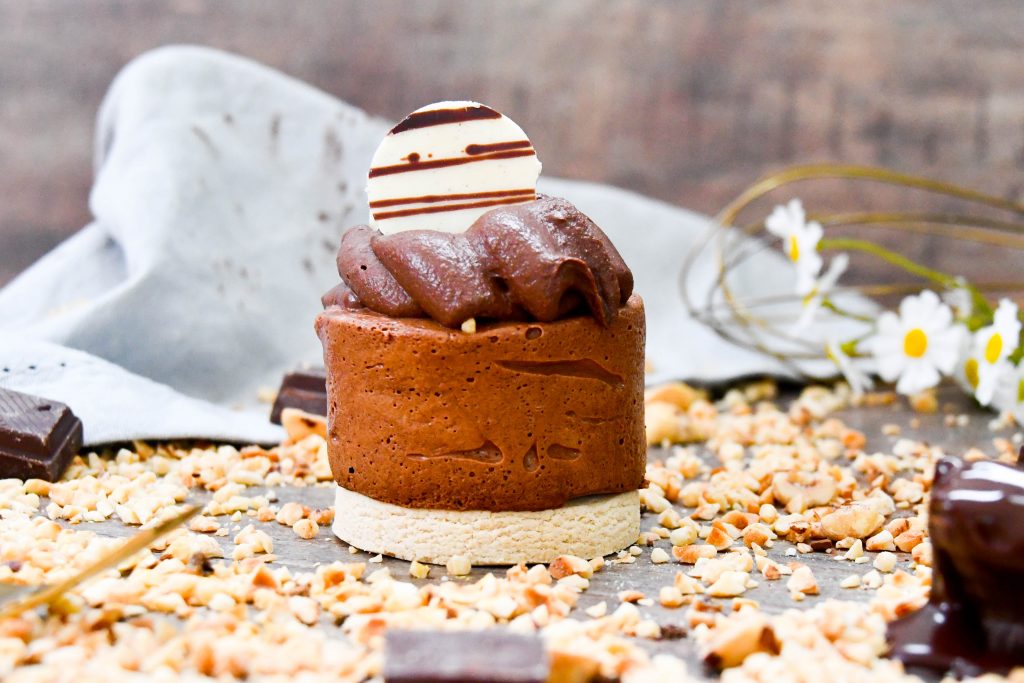 Gâteau au chocolat
Ingredients
Sablé Biscuit Base
45

g

coconut oil

soft, room temperature

50

g

maple syrup

1

Pinch

of salt

1

Drop

of vanilla extract

50

g

oat flour

35

g

rice flour

45

g

tapioca starch

¼

tsp

guar gum
Mousse au Chocolat
160

ml

aquafaba water drained from one can of chickpeas

165

g

dark chocolate we used 67% cocoa solids

vegan and sweetened with coconut flower sugar

25

g

coconut oil
50g maple syrup

optional / depending on desired sweetness
Chocolate Ganache
100

ml

almond milk

100

ml

coconut cream

185

g

dark chocolate drops

we used 67% cocoa solids, vegan, and sweetened with coconut flower sugar

50

g

maple syrup

20

g

coconut oil
Instructions
Sablé Biscuit Base
Make sure the coconut oil is a room temperature, it needs to be soft, a spreadable consistency. Whip it with an electric whisk until it becomes pale, smooth and creamy.

Add the maple syrup and mix until it is completely amalgamated with the coconut oil.

Then add the salt and vanilla extract and mix to combine.

Weigh out the flours and guar gum in a separate bowl and mix together to make sure they are well combined, then add to the coconut oil mixture.

Stir well until the dough starts to come together, then get your hands in the bowl and knead the dough, for about 2 - 3 minutes.

The dough should not be too sticky or too dry but should been smooth and hold together nicely. If it's too wet, try adding a teaspoon of flour, if its too dry add a teaspoon of maple syrup.

Preheat the oven to 180 degrees fan.

Shape the dough into a ball and place between 2 sheets of baking paper. Flatten the ball slightly with your hands and then roll out to 0.5 cm thick.

Take your cookie cutters and press into the rolled-out dough. Transfer them to a lined baking tray leaving about 2 cm between each cookie.

Bake on the middle shelf of the oven at 180 degrees fan for 10 – 12 minutes. When the dough starts to become a little golden, they are ready. Don't over bake them as they will harden out of the oven.

Remove from the oven and leave to cool slightly on the tray for 10 minutes then gently place on a cooling rack.

Gather up any left-over dough and repeat the process until it's all used up. The dough may start to harden, become dry or crumble at this point.

Don't be tempted to add any liquid. Just bring it back together with your hands to warm up the coconut oil and kneed it for a minute or so until it becomes workable again.
Mousse au Chocolat
Melt the chocolate over bain marie at a medium temperature (45 degrees Celcius). Once melted add in the coconut oil and your choice of sugar (if using) and mix. Take off the heat.

Drain the tin of chickpeas and pour the liquid into your mixer. Whisk on high speed for about 5 minutes or until it turns white and firm in texutre.

Wait until it forms peaks when you lift the whisk out.

Gently add the chocolate and coconut oil mix to the aquafaba, folding it in carefully until the mass is homogenous. (Make sure here you don't overmix or you will lose the air bubbles inside that give mousse its light texture)

Pour into round silicone moulds and put in the freezer overnight.
Chocolate Ganache
Pour the coconut cream and almond milk in a saucepan, as soon as it comes to the boil, take off the heat and add the chocolate drops and stir in.

Add in the maple syrup and coconut oil and mix well until you have a homogenous emulsion. Mix for 2 minutes, but not much longer or air bubbles will form inside. You want the ganache to be creamy and glossy – air bubbles prevent that.

Let the mixture cool to room temperature, then place in the fridge to firm up for a few hours.
Notes
To assemble

 
Remove the frozen chocolate mousse from the mould and place on the sablé base. Pipe the tops with ganache and decorate with your favourite toppings!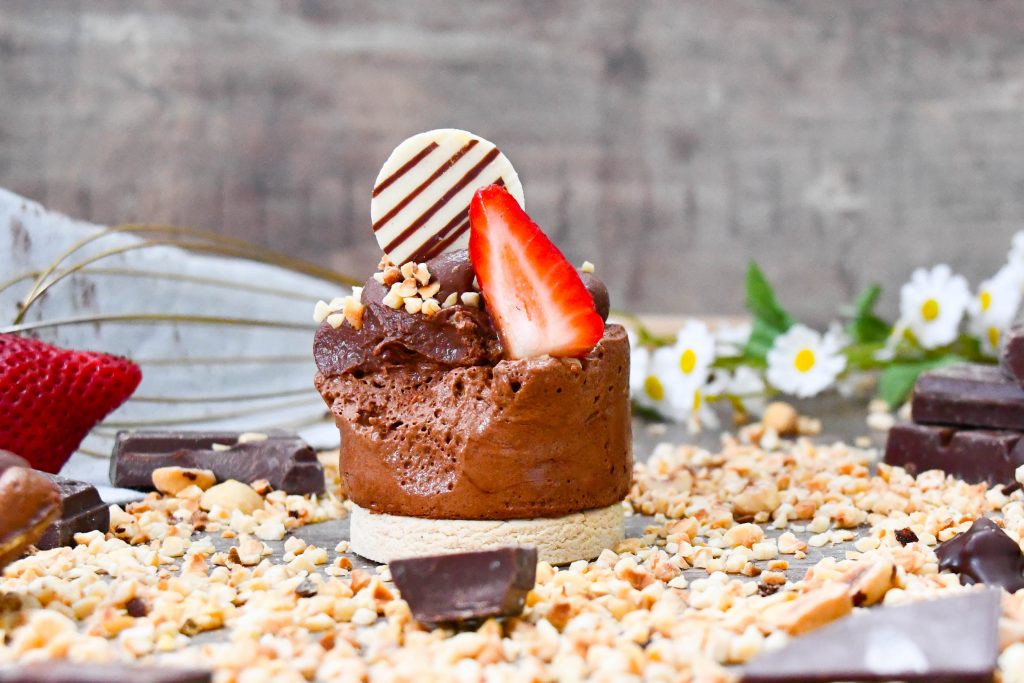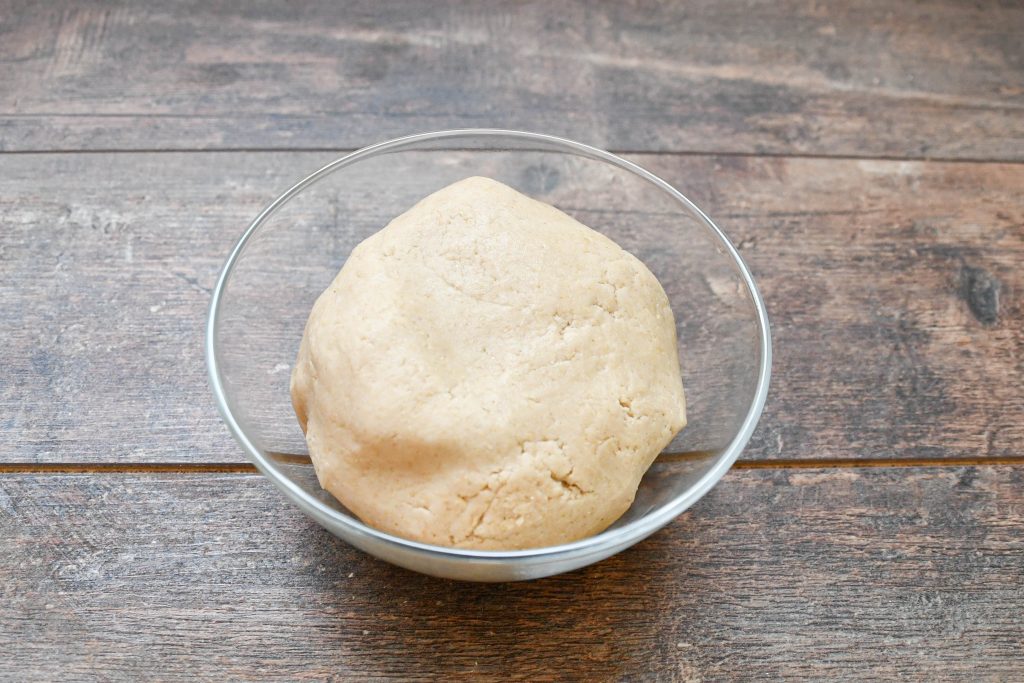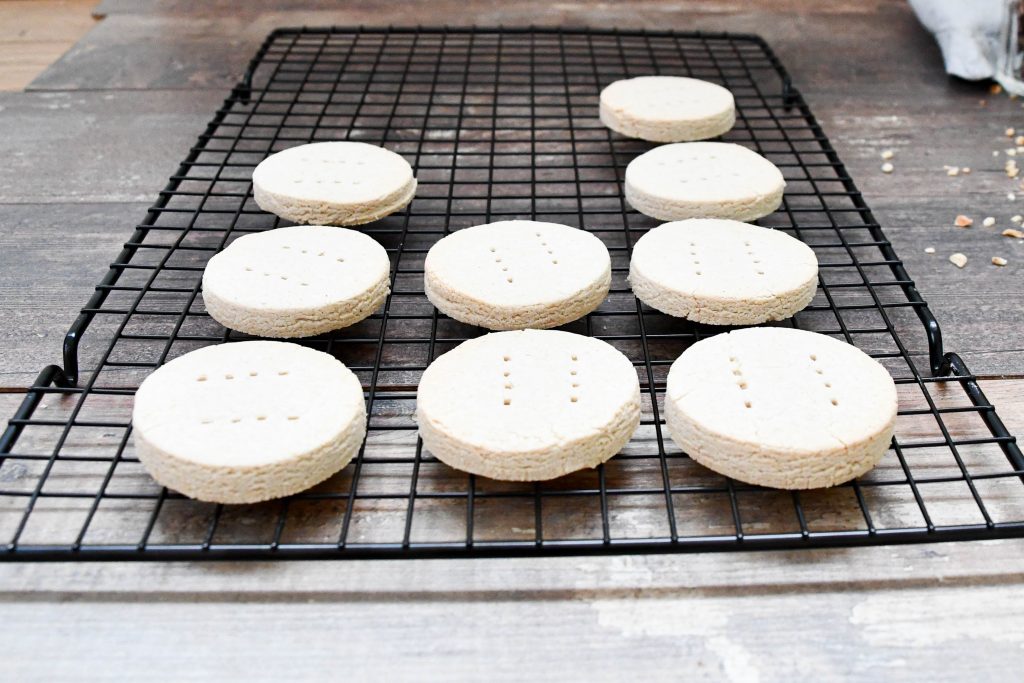 from a small bakery nestled on the foothills of the Swiss Alps, we use our creativity and patisserie skills to reinvent your favourite, most indulgent treats with wholesome and nutritious ingredients, so you never have to miss out on the fun!

This recipe was created with love, by
Marcel started learning the art of pastry and chocolate in his father's shop at the age of 15, and hasn't stopped since! He has worked around the world on the pastry teams of Michelin star restaurants. Marcel is an expert at taking the craft of Swiss chocolate and creating new recipes for those of us who want indulgence, but with all the benefits of plant-based, gluten-free, and better ingredients.