A madeleine is a small fluffy, bite-sized cake that is traditionally baked in a tin to give it its beautiful shell-like shape. We make our plant-based recipe with coconut flower sugar to give a rich, caramel flavour and then dip ours in a Swiss dark chocolate, finished it with a sprinkle of crushed pistachios.
Perfect for sharing with a mid-morning coffee!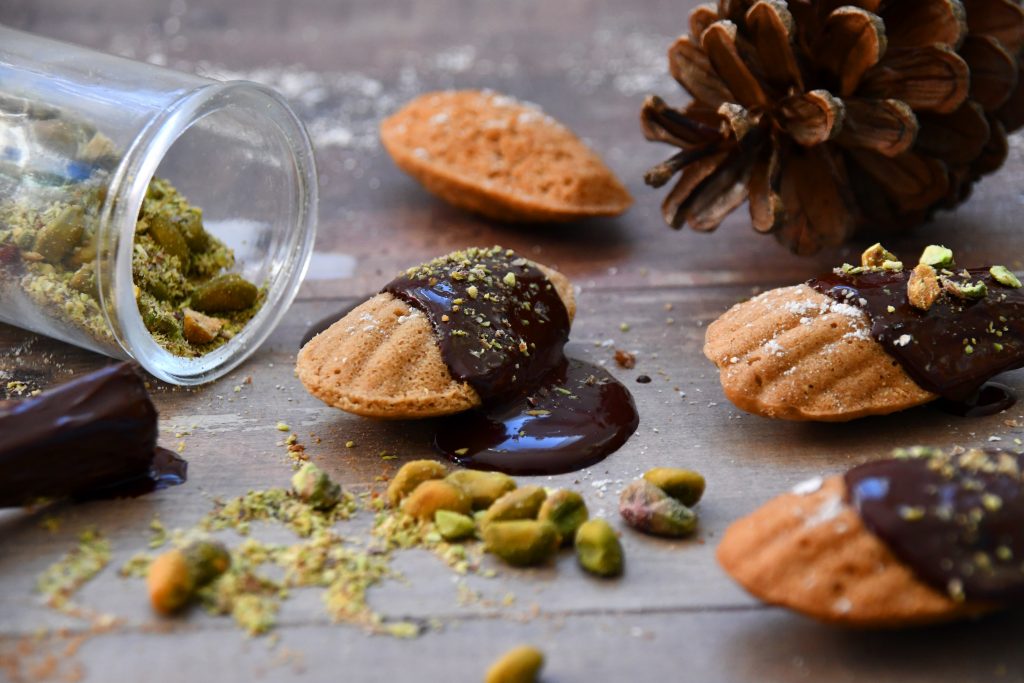 Light fluffy Madeleines
Ingredients
130

g

oat flour

10

g

tapioca starch

80

g

coconut flower sugar

1

tsp

baking powder

1

pinch

of salt

110

g

almond milk

70

g

coconut oil

melted

1

pinch

of lemon zest powder
Instructions
Mix together the flour, sugar, baking powder, salt and lemon zest.

Melt the coconut oil and add to dry ingredients, stir briefly and then add the almond milk Stir until well combined making sure there are no lumps. It should be a thick, but runny texture.

Rest in the fridge for 10 minutes until the batter thickens slightly. The texture should change to more like a runny spread.

Preheat the oven to 200°C fan.

Grease a madeleine tin with coconut oil and spoon 1 teaspoon of mixture into each mould (about 16g). Shake the tin slightly from side to side and tap in gently on the surface to level it out. The batter should be about 2 mm from the rim of the mould.

Place the tin in the oven and bake the madeleines for 5 minutes, then reduce the oven temperature to 170°C for a further 10 - 13 minutes. Keep an eye on them as depending on your oven they can brown easily!

Leave to cool slightly for about 5 – 10 minutes in the tin then remove gently and set aside to cool completely. Once cold dip the madeleines in melted dark chocolate (we used 67% cocoa solids, vegan and sweetened with coconut flower sugar) and sprinkle with crushed pistachios.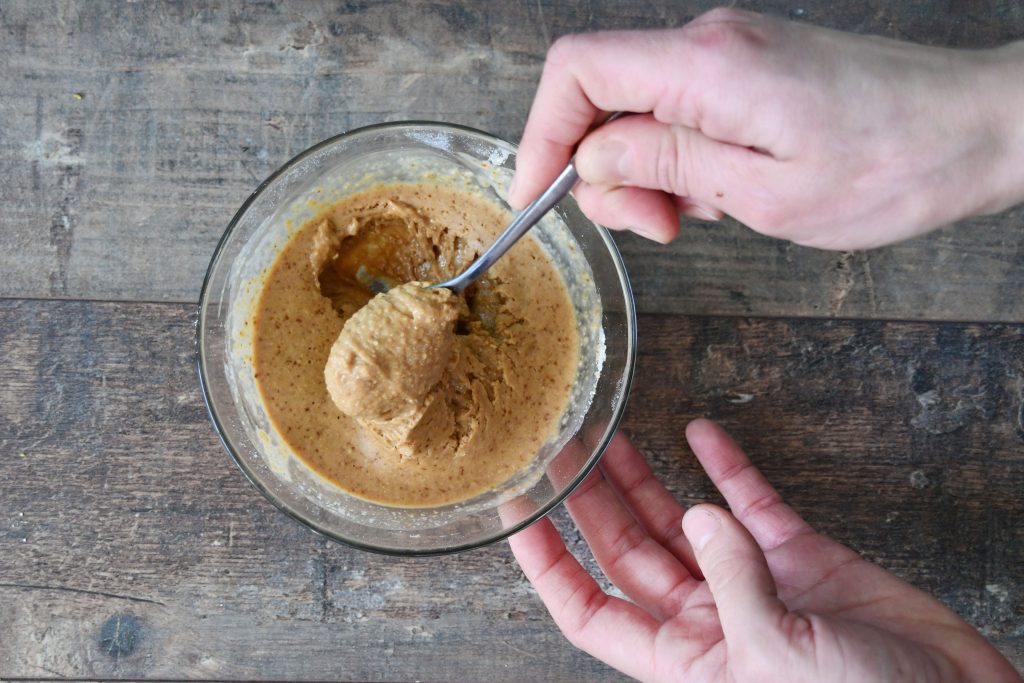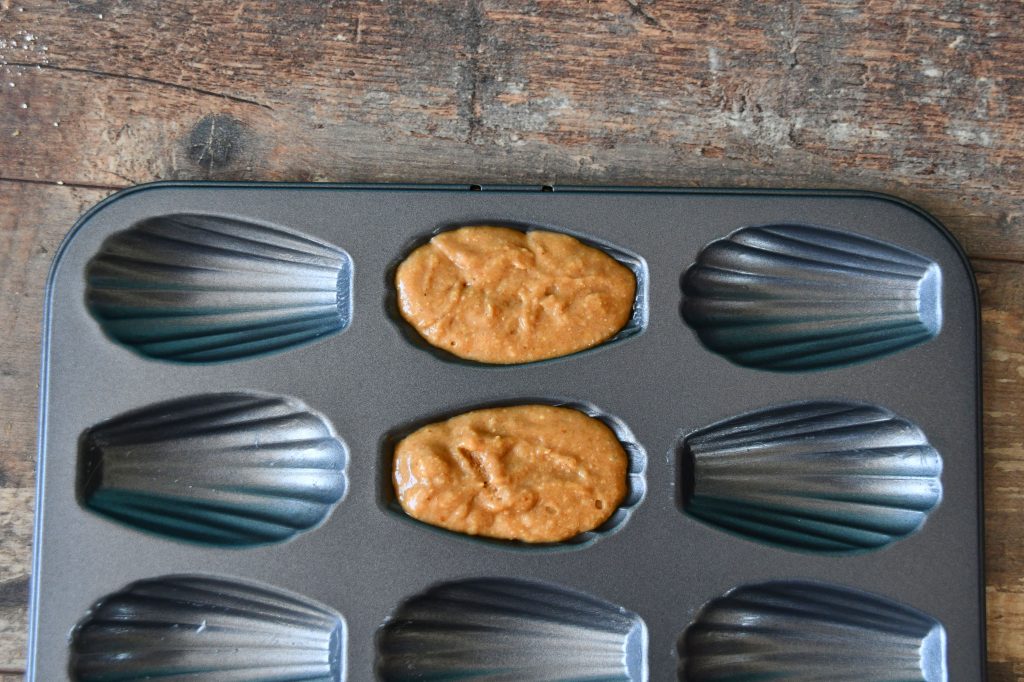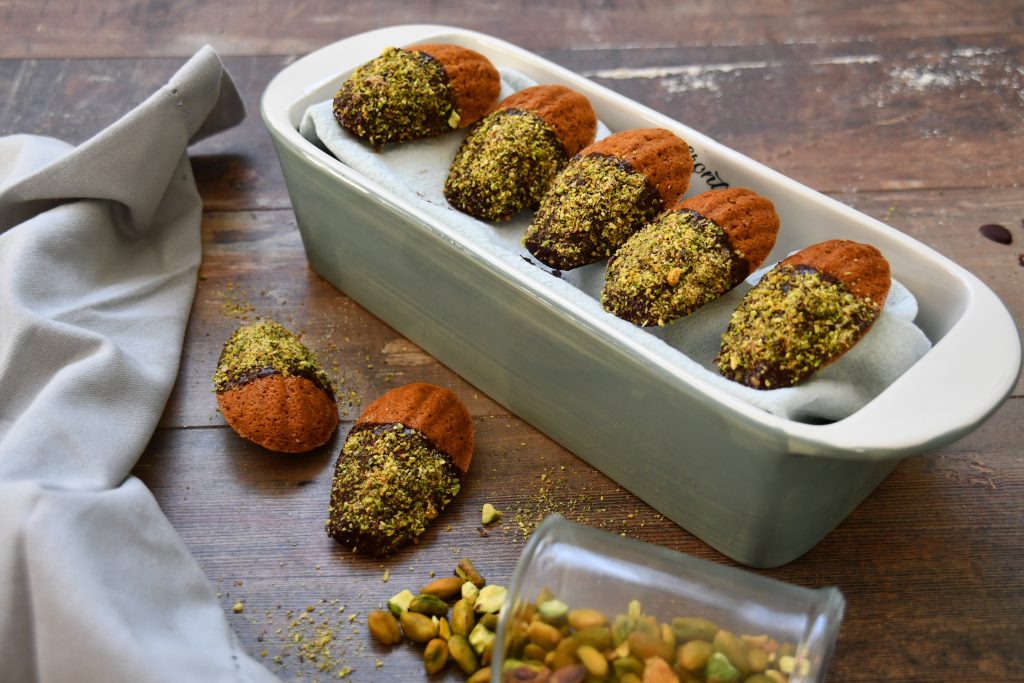 from a small bakery nestled on the foothills of the Swiss Alps, we use our creativity and patisserie skills to reinvent your favourite, most indulgent treats with wholesome and nutritious ingredients, so you never have to miss out on the fun!

This recipe was created with love, by
Having worked as a lead pastry chef and baker, Daphne has a passion for pushing the boundaries - she creates beautiful recipes, bringing natural ingredients into the world of pastry and chocolate making, and making sure every recipe is as delicious as it is wholesome.