In France, the dish is called "pain perdu," meaning "lost bread."Originally, people made French toast from stale bread in order to make use of bread that would otherwise have been thrown away.  Here in Rhythm108 kitchen, we're all for saving food!
Serving Size and Time:
Serving size: 4 people
Time: 15 minutes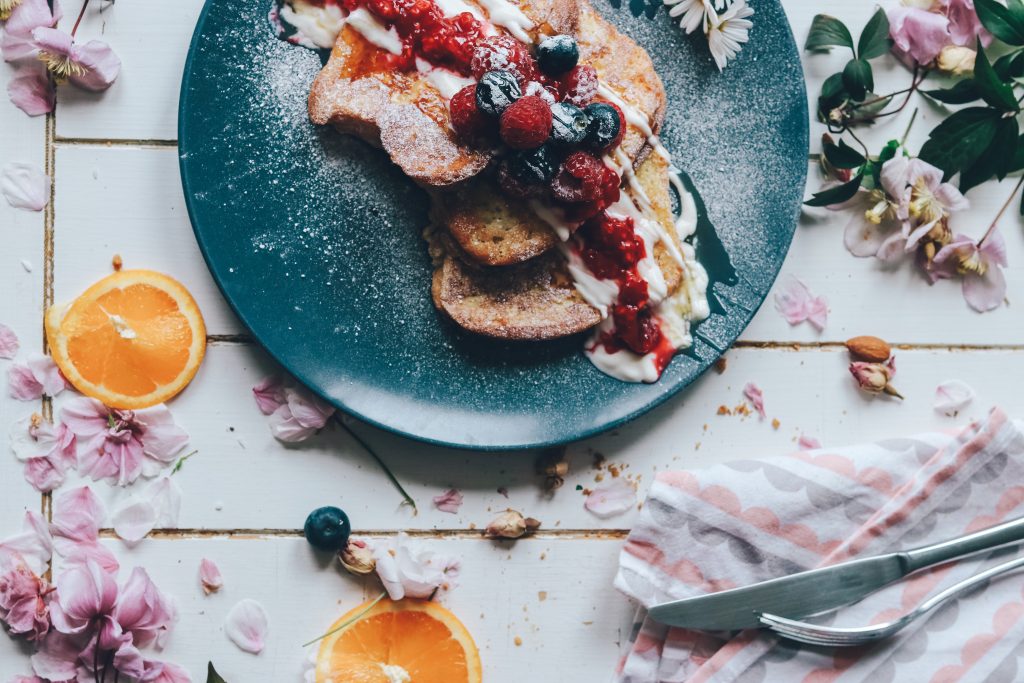 Ingredients:
– A loaf of bread (we used sourdough)
– 2 tablespoons flour (we used gluten-free oat flour)
– 2/3 cups creamy almond milk
– 1/2 teaspoon bourbon vanilla powder
– 2 1/2 tablespoons maple syrup or coconut flower nectar (or less if you want)
– 1/4 tsp nutmeg
– A pinch of cinnamon
– A pinch of salt
Method:
1. Mix the ingredients into a smooth batter
2. Heat a pan on medium heat
3. Add 2 teaspoons coconut oil into the pan and spread across the pan into a thin layer, until it sizzles
4. Dip the sourdough slices into the batter and fully cover the slices for a couple of minutes
5. Fry both sized of the toast unitl its crispy and cooked
6. Add to a plate and top with caramalized bananas, berries, nuts, and maple syrup – or any other toppings of your choice!