The Swiss Gugelupf Cake has been around for a long time and has undergone many transformations from neighbouring Germany, France and Austria. Its also made its way to America, where its known as Bundt Cake. We've been inspired by this delicious comforting cake and would like to share our easy plant-based version with you for Mother's Day! Using 100% plant-based ingredients this white chocolate and raspberry cake has the perfect balance between tart raspberry and sweet chocolate.
Find our Spotify Playlist for this recipe at the bottom of the post!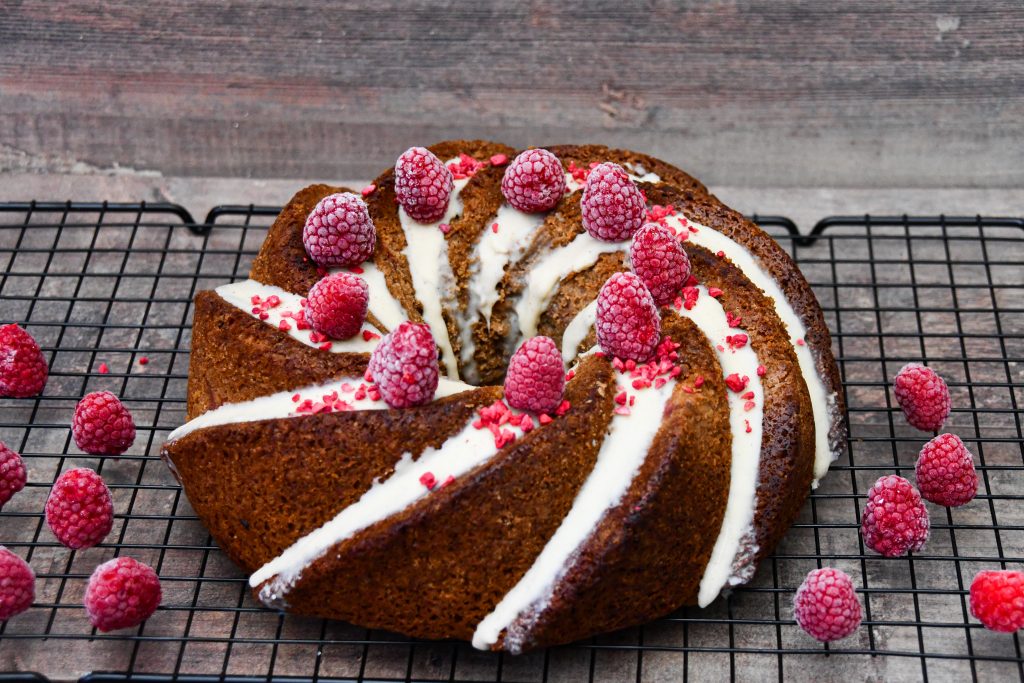 Raspberry and White Chocolate Bundt Cake
Ingredients
180

g

oat flour

100

g

rice flour

1

tbsp

corn flour 
pinch of salt

2

tsp

baking powder

1

tsp

bicarbonate of soda

130

g

coconut sugar

125

g

coconut oil

softened to room temperature

1

tsp

vanilla extract 


60

ml

lemon juice

2

tbsp

apple puree/compote

180

ml

almond milk 
100 g fresh or frozen raspberries

1

pack

vegan chocolate and freeze-dried raspberries for decorating
Instructions
Preheat the oven to 180 degrees Celsius and grease the Bundt cake mould with coconut oil.

In a small bowl mix together the almond milk, lemon juice and apple puree. Set aside.
Weigh the flours and sift into a medium bowl with the baking powder, bicarb and salt.

In a large bowl cream together the coconut oil, coconut sugar and vanilla extract until it turns slightly pale and is well amalgamated.

Add half of the flour mix to the coconut and combine.

Gradually add the almond milk, mixing after each addition until fully combined.

Add the remaining flour and mix until just combined.

Then add the raspberries.

It's important not to overmix here so that the raspberries stay intact and the sponge stays light!

Pour the mixture into the mould and flatten the surface with the back of a spoon.

Bake on the middle shelf for 45 - 60 minutes but check after 40 minutes to see how it's doing.

Test by inserting a skewer or knife in the middle.

f it comes out clean, its ready!
 Leave to cool completely in the mould, then turn out onto a cooling rack and remove from the mould.

Decorate the cake with melted vegan white chocolate and freeze-dried raspberries.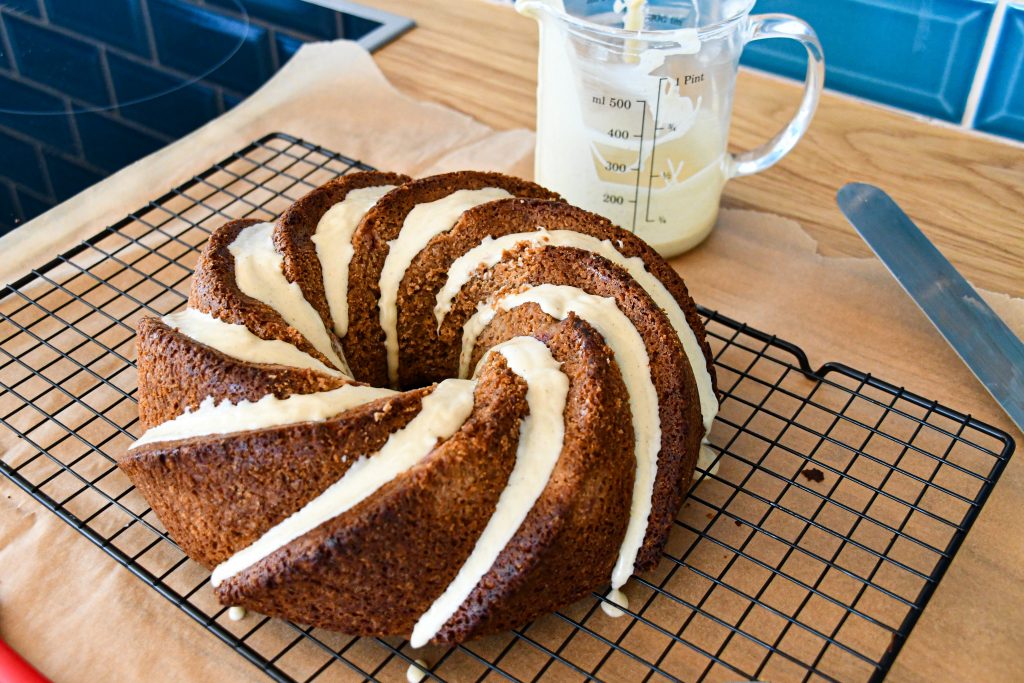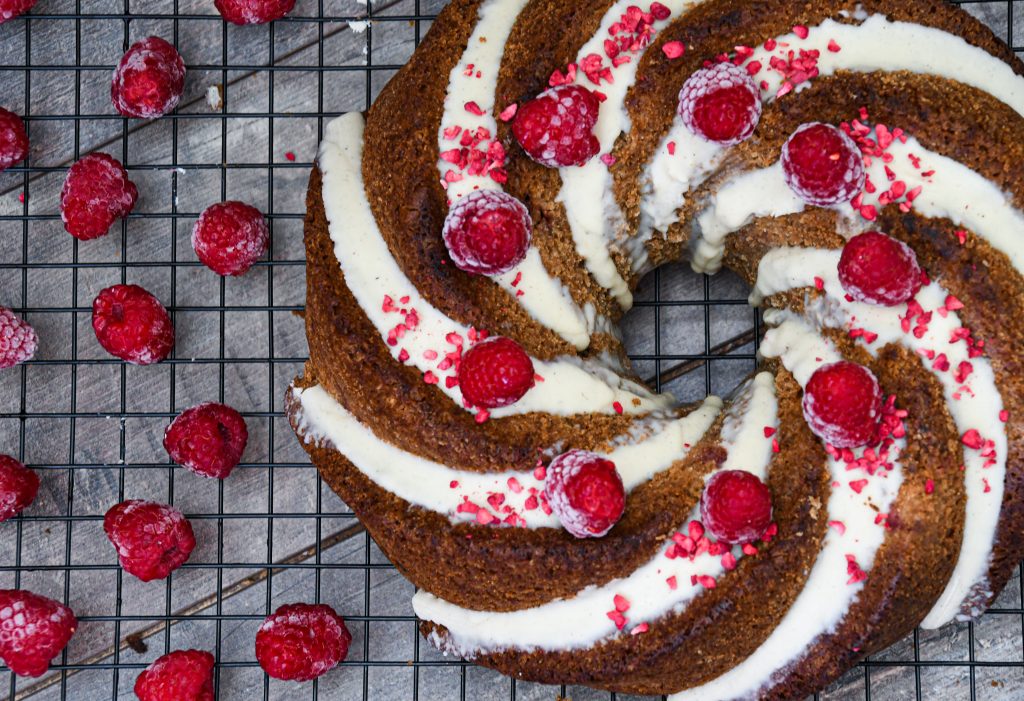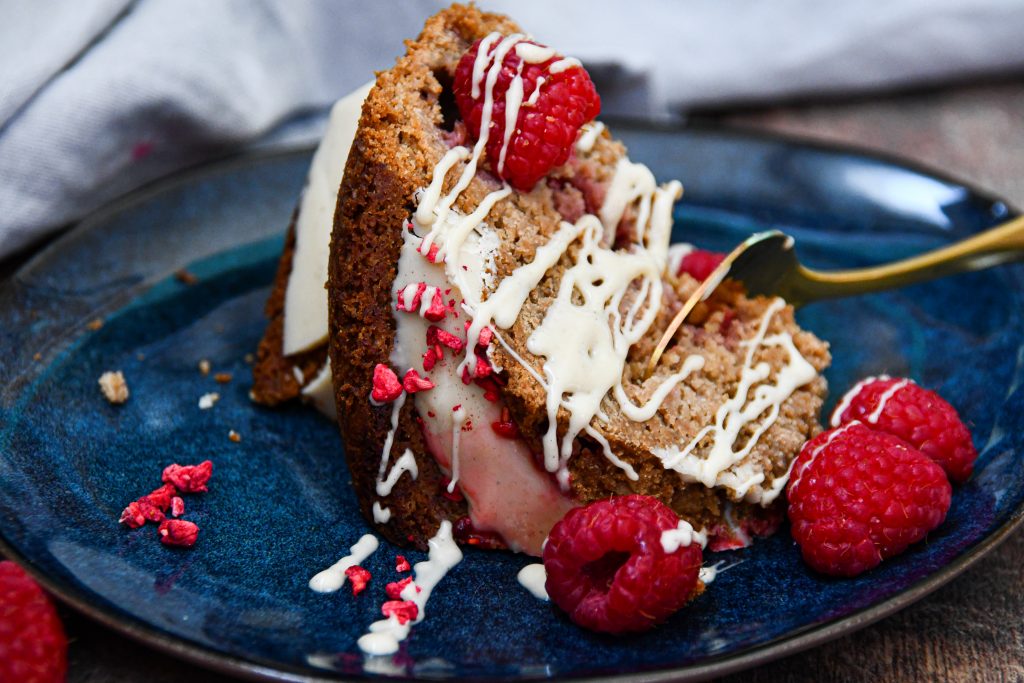 For every recipe we have a matching Spotify playlist to bake along to. Here is this week's baking soundtrack!


from a small bakery nestled on the foothills of the Swiss Alps, we use our creativity and patisserie skills to reinvent your favourite, most indulgent treats with wholesome and nutritious ingredients, so you never have to miss out on the fun!

This recipe was created with love, by
Having worked as a lead pastry chef and baker, Daphne has a passion for pushing the boundaries - she creates beautiful recipes, bringing natural ingredients into the world of pastry and chocolate making, and making sure every recipe is as delicious as it is wholesome.