Sweet crisp base, soft coconut cream and fresh raspberries make this tartlet. It's a staple pâtisserie here in Switzerland traditionally made with crème pâtisserie. We've put together our own plant-based version using our gluten free tart base recipe and deliciously smooth coconut cream. Perfect for munching on a sunny spring day!
Every recipe comes with its own Spotify Playlist (bottom of page). This weeks playlist was chosen one of our favourite Instagrammers @kay_ska



Raspberry Tartlets (Tarte aux Framboises)
Servings:
1
large tart or 5 small tartlets
Equipment
1 x 20 cm tart tin (ideally loose based)
Ingredients
Ingredients For the Sweet Tart Base
120

g

coconut oil creamy at room temperature

60

g

coconut flower sugar

50

g

almond butter

45

g

maple syrup

170

g

oat flour we used gluten-free

80

g

rice flour

35

ml

water

depending on wetness of dough

2

g

salt
Ingredients For the Crème Patisserie
50

g

cornflour

1

tin

coconut milk

100

ml

almond milk

100

g

fine organic cane sugar

1

tsp

fresh vanilla bean paste

60

ml

coconut oil at room temperature
Instructions
Method For the Sweet Tart Base
Whip the sugar and salt into the creamy coconut oil with an electric whisk or wooden spoon until it is smooth.

Add the almond butter and maple syrup into the mix and keep whipping until you have a white-ish emulsion.

Add the flours into the mix and fold in. Keep mixing until you get a dough. You may not need to add any water here depending on the consistency of the dough. It needs to come together but not be sticky or too crumbly.

Form the dough into a ball and wrap it in cling film and let it rest for 15 minutes in the refrigerator. The dough should be firm when you take it out. Preheat the oven to 180 degrees Celsius.

Take the dough out and roll it into a thin sheet. If you are making tartlets you want the dough to be 3mm thick. If you are making a large tart, it can be 5mm thick.

Grease the tarts tin/s with coconut oil. Cut rounds in your rolled sheet that are slightly larger than the moulds of your tin, and place each cut sheet into the mould. Press the sheet firmly into the corners. Prick the base with a fork so that it doesn't puff up during the bake.

Bake at 180 degrees celcius for 20-25 minutes (depending on the size of tart).

Remove from the oven and leave to cool in the tin. Once completely cold remove from the tin and fill crème patisserie and top with fresh raspberries.
Method For the Crème Patisserie
In a saucepan mix together the cornflour and coconut milk until completely smooth. Make sure there are no lumps.

Add the almond milk, sugar and vanilla and mix until fully incorporated.

Place the pan on a medium heat and gently bring to the boil stirring the whole time. Once it starts to simmer use a whisk and continue stirring to stop any lumps from forming.

Once it has thickened, cook for a minute or so whisking all the time. Then take off the heat and add the coconut oil. Mix really well with a whisk until completely amalgamated. Then cover the surface with film or baking paper and leave to cool.
Notes
To assemble
Fill a piping bag with the cold coconut crème patisserie and pipe into the base of the tarts. Decorate with fresh raspberries and devour!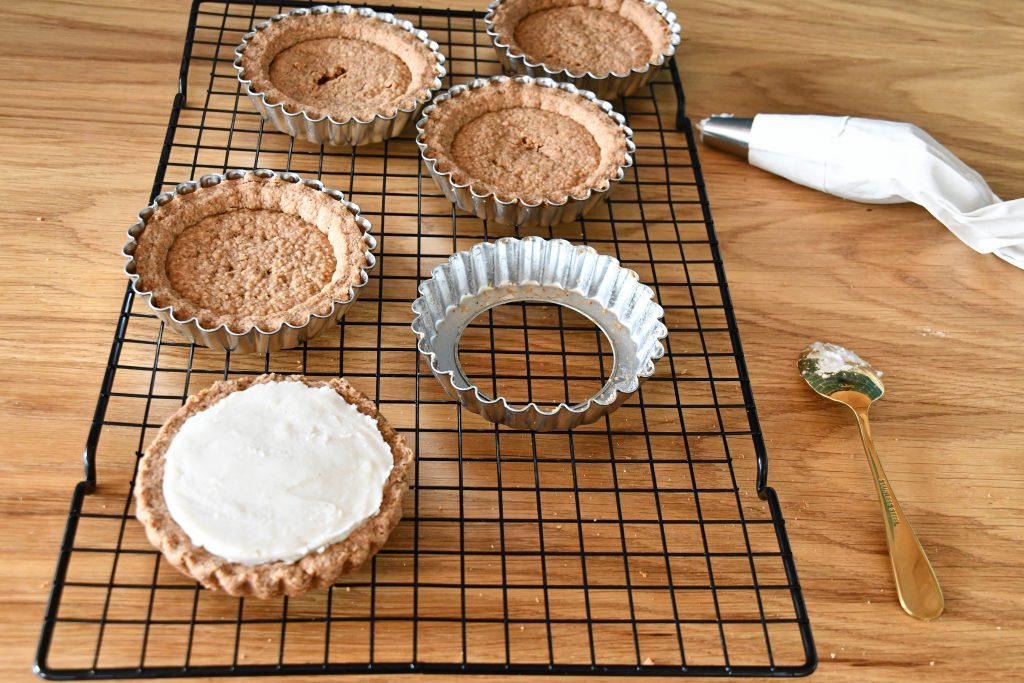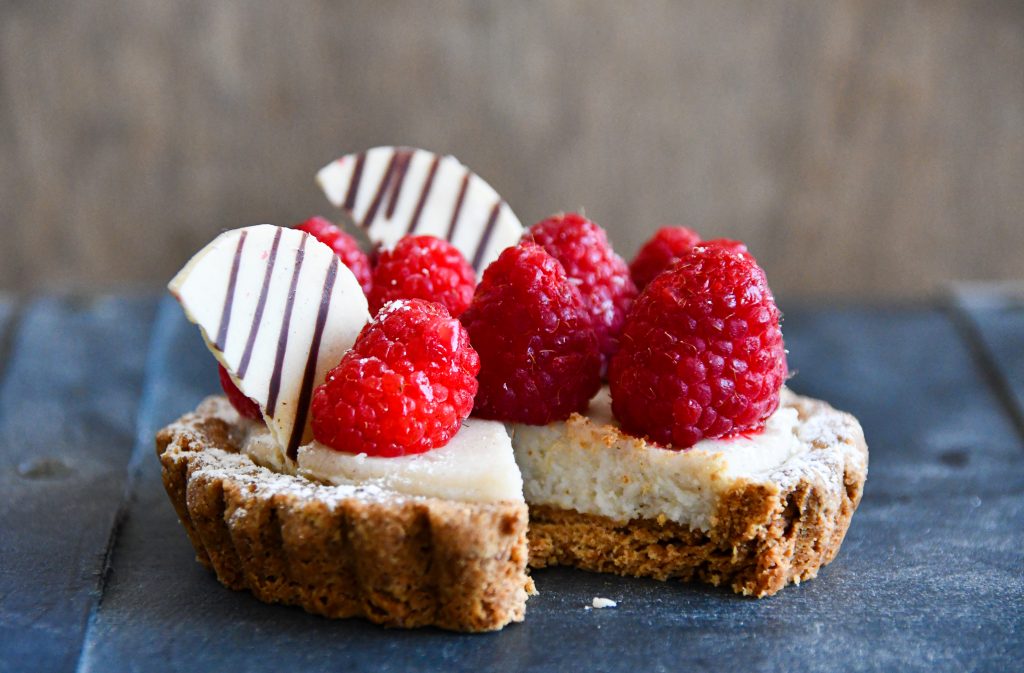 Crème Patisserie Recipe adapted from
https://domesticgothess.com/blog/2019/05/24/vegan-strawberry-tart/
For every recipe we have a matching Spotify playlist to bake along to. Here is this week's baking soundtrack!


from a small bakery nestled on the foothills of the Swiss Alps, we use our creativity and patisserie skills to reinvent your favourite, most indulgent treats with wholesome and nutritious ingredients, so you never have to miss out on the fun!

This recipe was created with love, by
Having worked as a lead pastry chef and baker, Daphne has a passion for pushing the boundaries - she creates beautiful recipes, bringing natural ingredients into the world of pastry and chocolate making, and making sure every recipe is as delicious as it is wholesome.