We love this recipe for its creamy coconutty smoothness, sweet crunchy meringue and fresh raspberry hit. We hope you love it too!
This is a great dessert to prepare ahead of time. Once cooked, the meringues will keep for a 1-2 days, just leave them somewhere cool and airy. You can also prepare the raspberry coulis in advance. Then just before your guests arrive, you can quickly assemble this delicious pavlova and devour!
Plus you'll have a lot of chick peas and coconut milk leftover from this recipe, perfect for putting together a yummy veggie curry!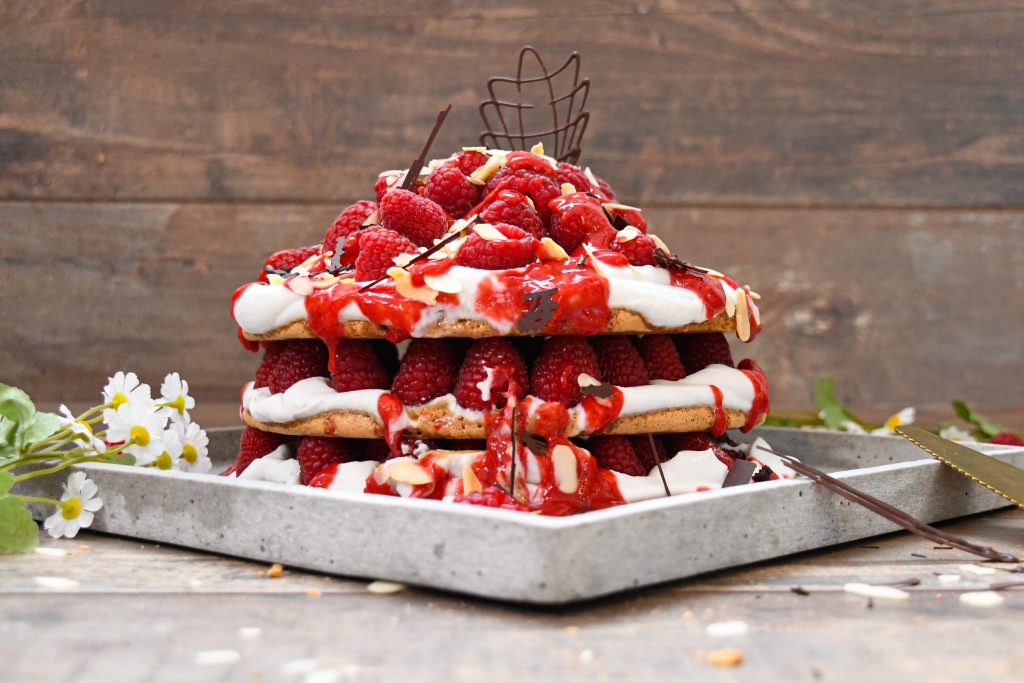 Three Layer Coconut Raspberry Pavlova
Equipment
Stand-alone mixer or electric whisk

Piping bag (optional)
Ingredients
For the meringue
1

can organic chickpeas

320

g

organic coconut sugar
For the coconut filling
3

cans chilled tins of coconut milk good quality and organic

with a high fat content works best!

3

tbsp

organic sugar of your choice icing sugar works well here as it dissolves nicely into the cream making it fluffy and smooth 
-Coconut sugar is a great option too

it will make your filling taste extra coconutty and caramelised and a little crunchy as it does not dissolve as well
-Maple syrup (this brings a different flavour to the filling, but a great substitute to white sugar!

3

tsp

tapioca starch optional
For the raspberry coulis
100

g

fresh raspberries

1

tbsp

water
Method
For the meringue
Preheat your oven to 80 degrees and prepare 3 lined baking trays. We recommend to pencil 3 x 23cm diameter circles onto your baking paper so that you have equal sized meringues.

Drain the chickpeas and put liquid from the can into the bowl of your mixer, with the balloon whisk attachment. Whisk the chickpea water on high speed for about 5 minutes, until it becomes white and stiff peaks form.

In the meantime, weigh out your coconut sugar. Reduce the speed to medium on the mixer and add a handful of sugar, allow this to whisk in for a minute. Gradually add another handful of sugar, allow to whisk in for another minute. Repeat this one more time.

Stop the mixer and remove the bowl. Gently add the remaining sugar and really carefully fold it in to the whisked chickpea water with a spatula. You want to preserve as much of the air as possible, but also work quickly. If you leave the mixture to stand the sugar will start to dissolve your meringue will get a bit heavy!

You can transfer the mixture into a piping bag and pipe directly onto the circles on your baking paper. Starting in the centre of the circle and working your way out. Or you can gently spoon the mixture onto your baking paper for a more rustic look!

Pop your 3 meringues into the oven and bake for 1 and half hours. After this time, turn the oven off and leave to cool down inside the oven for at least 4 hours, or ideally overnight.
For the coconut filling
Make sure you tins of coconut milk have been in the fridge for at least 24 hours. Open the tins and scoop out the top layer into the bowl of your mixer. The milk should have separated, leaving a thick layer of coconut cream on the top and the clear milk at the bottom.

Start by whipping the coconut cream of high speed, it might be a little lumpy, so make so you whip it well to make it nice and smooth. Add 3 tbsp of sugar and continue to whip. If it isn't firm enough you can add 3 tsp of tapioca starch and continue to whip until it thickens. Or you can put it back in the fridge to harden up until you want to use it (you may need to re-whip it again before using).
For the raspberry coulis
Gently heat the fresh raspberries in a saucepan with a tablespoon of water for 5 minutes. Once they broken down, pass through a sieve to remove the pips. Set the coulis aside until you're ready to put the pavlova together.
Notes
Decorations  (or choose your own)
Dark chocolate shavings, Toasted flaked almonds, 500 g fresh raspberries
Place one layer of meringue on a cake stand, spread a third of the coconut filling on top and cover with raspberries, repeat for the second and final layer. Drizzle the final layer with the raspberry coulis, then sprinkle with toasted flaked almonds and chocolate shavings.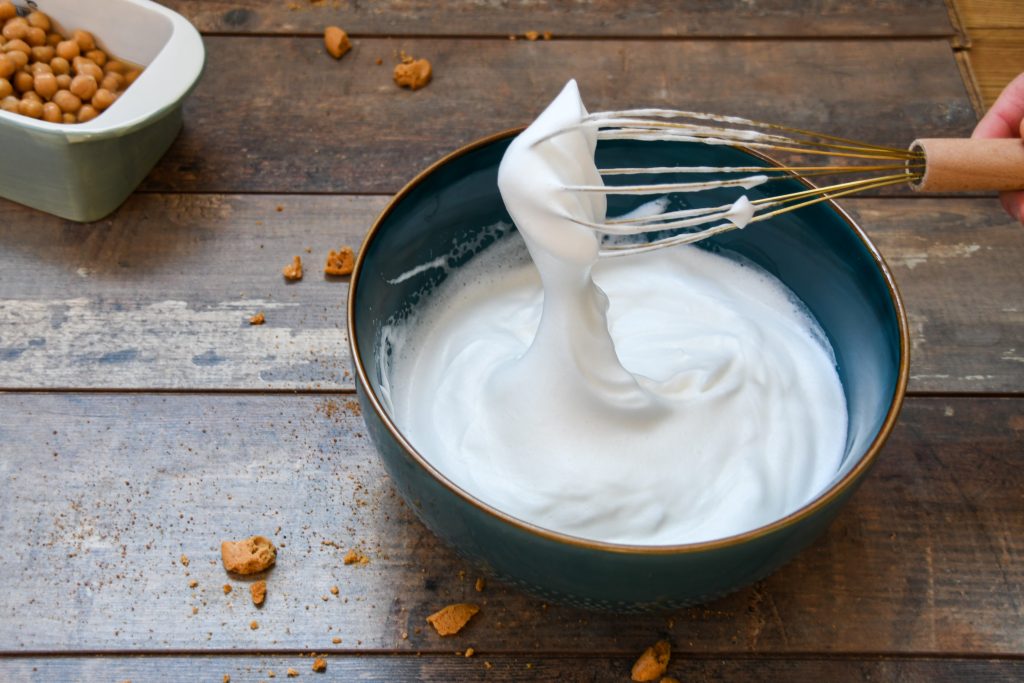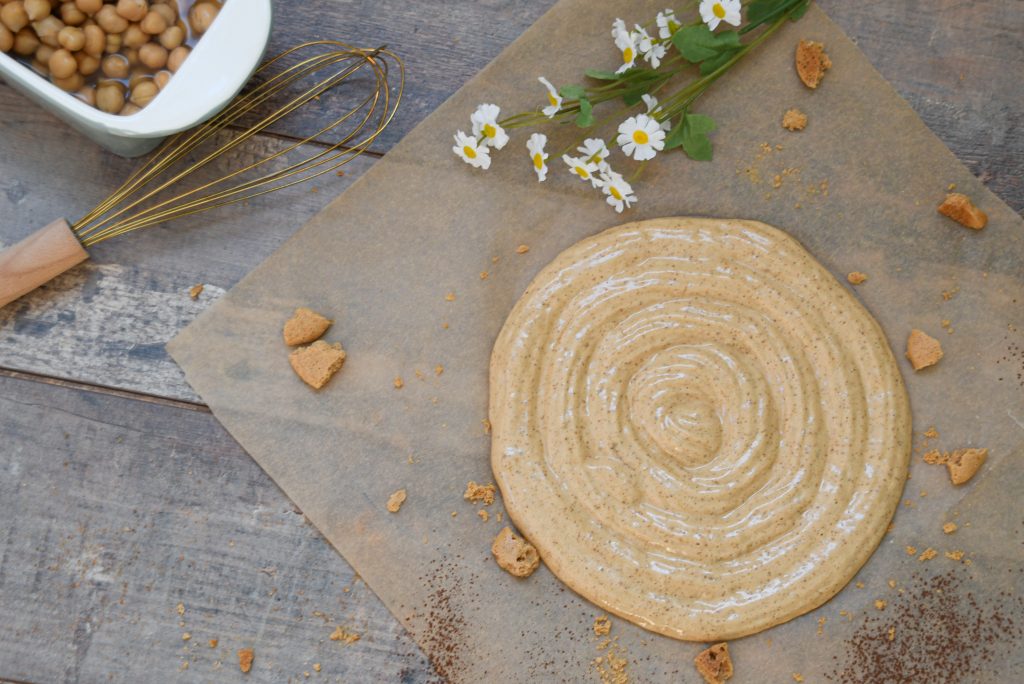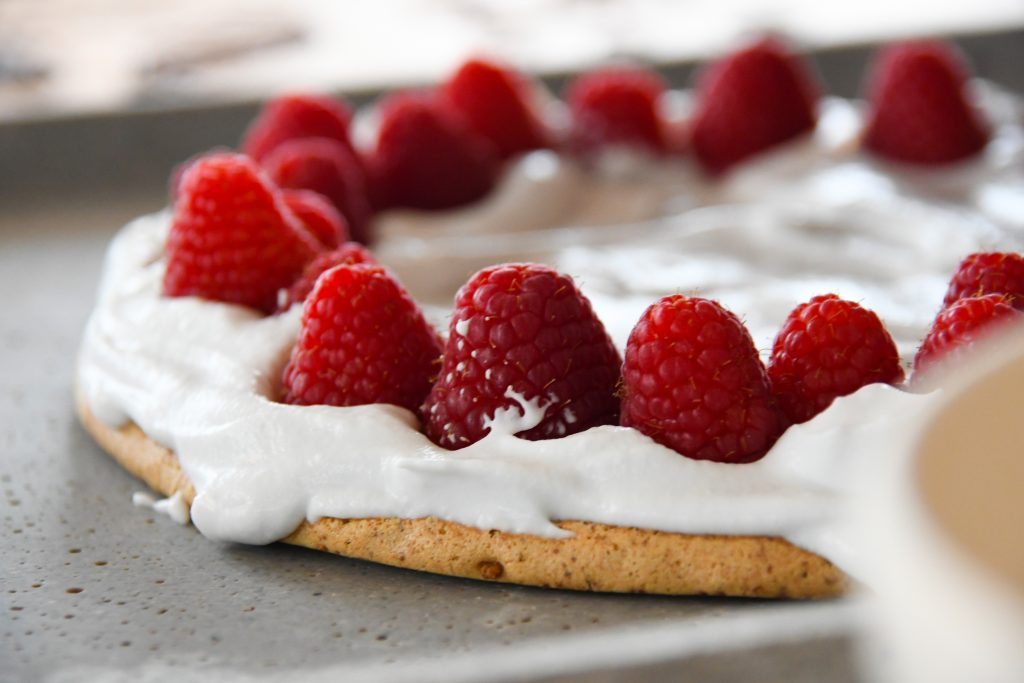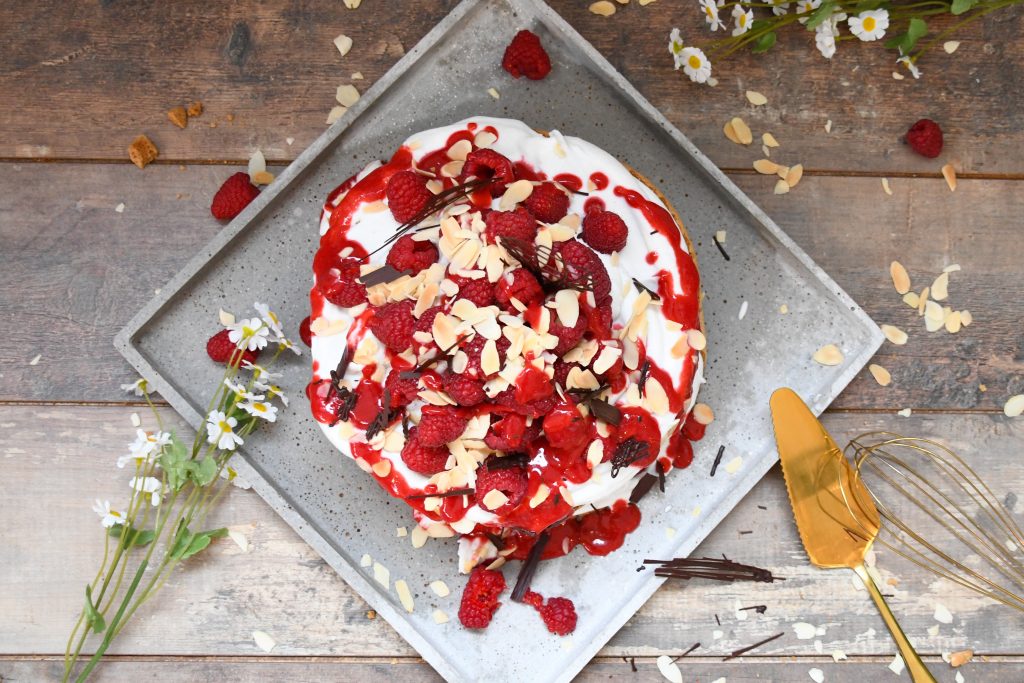 from a small bakery nestled on the foothills of the Swiss Alps, we use our creativity and patisserie skills to reinvent your favourite, most indulgent treats with wholesome and nutritious ingredients, so you never have to miss out on the fun!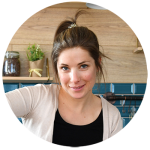 This recipe was created with love, by
Having worked as a lead pastry chef and baker, Daphne has a passion for pushing the boundaries - she creates beautiful recipes, bringing natural ingredients into the world of pastry and chocolate making, and making sure every recipe is as delicious as it is wholesome.