If you're looking for a fudgey chocolate filled cake to make this Easter weekend, this is the recipe for you! Treat your family to a hand-crafted 3 layer cake or keep it simple with one layer, iced and pilled high with lots of Rhythm108 Easter eggs!
Every recipe comes with its own Spotify Playlist (bottom of page). This weeks playlist was chosen by one of our favourite Instagrammers @plantyfaby.



Easter Chocolate Cake
Equipment
20 cm round cake tin

Prep time: 30 minutes

Bake time: 50 minutes
Ingredients
Ingredients for the chocolate sponge
235

g

gluten-free flour

OR a blend of 100g whole oat flour mixed with 100g white rice flour and 35g tapioca flour

200

g

coconut flower sugar

40

g

cocoa powder

1

tsp

bicarbonate of soda

1

pinch

of salt

130

g

chocolate chips

we used 65% vegan dark chocolate sweetened with coconut sugar

75

g

coconut oil melted

1

tsp

vanilla extract

1

tsp

apple cider vinegar

230

g

cold water

Lots

of Rhythm 108 Swiss Chocolate Truffle Eggs
Ingredients for the icing
120

g

of coconut oil at room temperature

350

g

of icing sugar

1

tbsp

Blue spirulina powder

for colouring

1

teaspoon

of almond milk
Instructions
Method for the chocolate sponge
Line your cake tin with baking paper and grease the sides with a little coconut oil.

Preheat the oven to 175 °C.

Weigh out the flour, cocoa powder, sugar, salt and bicarbonate of soda.

Sift them together into a large bowl.

Then stir in the chocolate chips.

Add the melted coconut oil along with the vanilla extract, vinegar and then the water, gradually. Stir to combine the ingredients but don't overmix.

Bake at 175 °C for 50 minutes. To check its ready, insert a knife or cake tester, if it comes out clean its ready! Leave the cakes to cool down completely in their tins. Once the sponges are cold the cake can be removed from their tins and iced.
Method Icing
Make sure the coconut oil is at room temperature, the softer the better and easier to mix! Also, make sure the icing sugar is lump free, you can sift it into the coconut oil to make sure you end up with a smooth icing.

Mix together the icing sugar and coconut oil in a large bowl with a wooden spoon. As it starts to come together add the milk and food colouring.

The spirulina powder goes a looooooong way, so be sure just to add a tiny bit (a small pinch to start with) and mix it in fully before adding more.

Once you're happy with the colour, make sure the consistency of the icing is spreadable, its needs to be soft but stiff enough to hold together.

To assemble a 3 layered cake spread a quarter of the icing onto the first sponge. Then place the second sponge layer on top and spread another quarter of the icing on top.

Place the final sponge layer on and cover the sides and top of the cake with the remaining icing.

If you plan to do some piping work, make sure you leave enough icing for that.

Smooth the sides and top of the cake with a spatula and decorate with lots of Rhythm 108 Swiss Chocolate Truffle Eggs!
Notes
This quantity makes one layer. We tripled it to make a 3-layer cake. You can do this in batches or triple to amount below and then divide equally between 3 cake tins. Ice or fill with chocolate ganache and decorate with lots of Rhythm108 Easter eggs!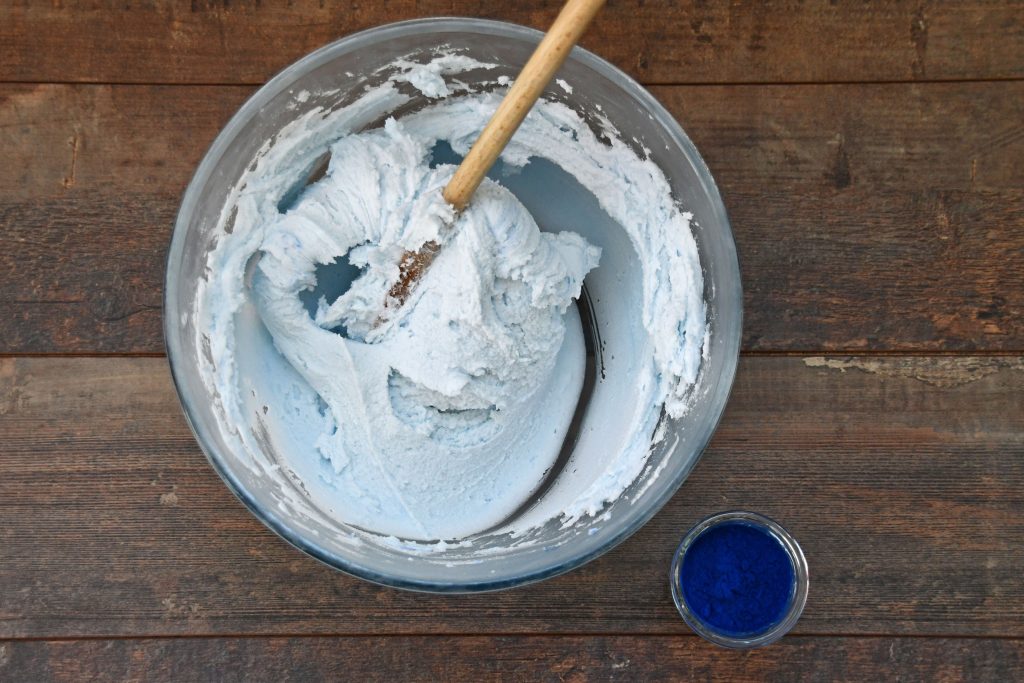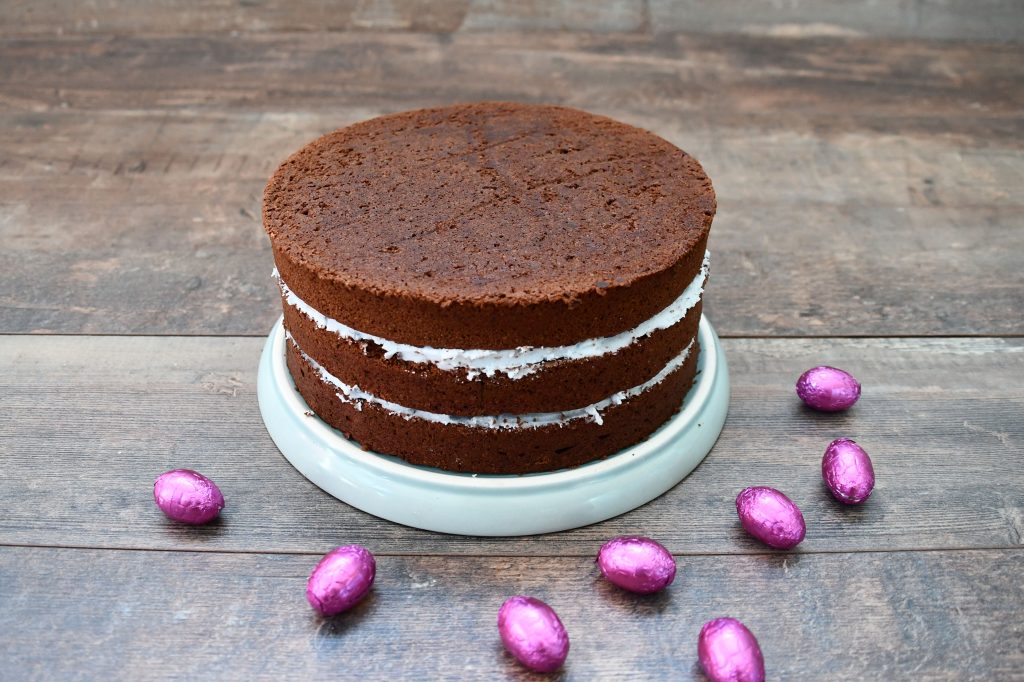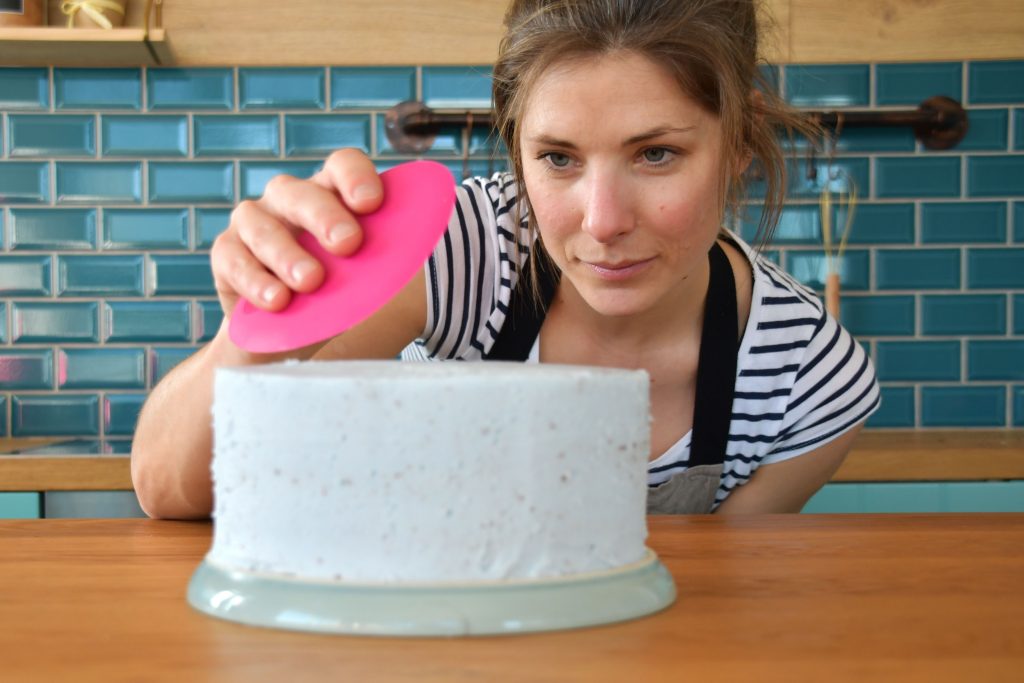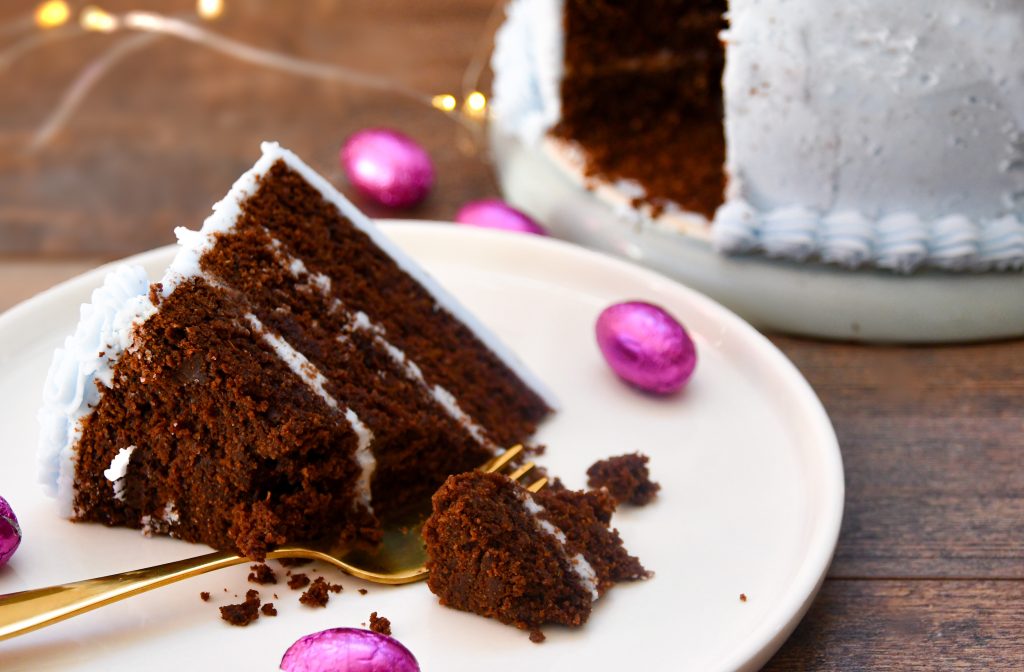 For every recipe we have a matching Spotify playlist to bake along to. Here is this week's baking soundtrack!


from a small bakery nestled on the foothills of the Swiss Alps, we use our creativity and patisserie skills to reinvent your favourite, most indulgent treats with wholesome and nutritious ingredients, so you never have to miss out on the fun!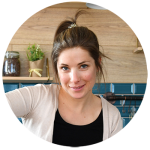 This recipe was created with love, by
Having worked as a lead pastry chef and baker, Daphne has a passion for pushing the boundaries - she creates beautiful recipes, bringing natural ingredients into the world of pastry and chocolate making, and making sure every recipe is as delicious as it is wholesome.