Chocolate Truffles or Truffes au Chocolat have been around for quite a while, since 1895 in fact! Invented by French pâtissiers, they are renowned for their smooth, rich, chocolately filling and cocoa dusted exterior.
Our pâtissiers, here in our Swiss bakery, have been working on a delicious recipe that combines rich dark chocolate ganache with smooth sweet almond praliné to make the ultimate plant-based truffle.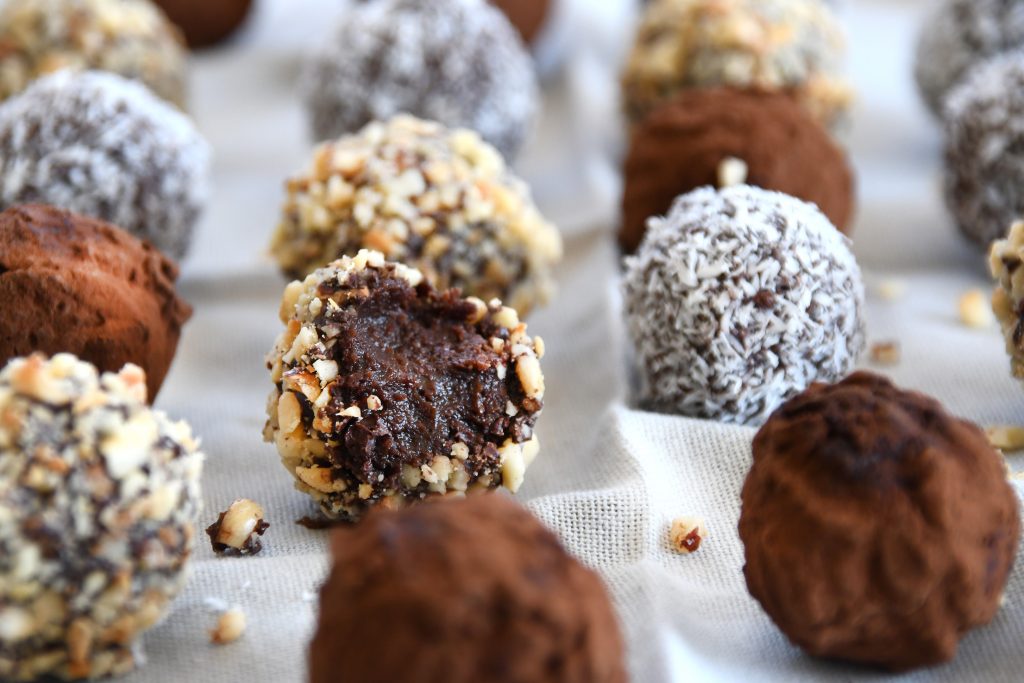 Truffes au Chocolat
Equipment
Baking Tray, Piping Bag, Jars
Ingredients
For the Almond Praliné
500

g

whole almonds (skins on)

1

g

Salt

100

g

coconut flower sugar

25

g

coconut oil 
For the Truffles
100

ml

coconut cream

100

ml

almond milk

200

g

dark chocolate drops

400

g

almond praline or almond butter
Instructions
For the Almond Praliné
Pre-heat the oven to 150°C and place the almonds on a baking tray.

Toast on the oven for 10 – 15 minutes.

Remove from the oven and add to a food processor along with the salt, coconut sugar and coconut oil.

Blend together until it forms a smooth paste. It will take at least 5 minutes and you may need to stop the food processor to scrape down the sides every now and then.

Once blended, it can be stored in jars and kept in the fridge for up to 6 months -although it'll probably disappear before then as it is so delicious! It is also a great alternative to other nut butters.
For the Truffles
Pour the coconut cream and almond milk in a saucepan and bring to the boil over a medium to high heat.

As soon as it starts to bubble, take off the heat and gently stir in the chocolate drops. Add the almond praline and stir it in gently with a wooden spoon.

Leave to chill in the fridge for a few hours or overnight.

Once the chocolate mixture has hardened you can transfer it to a piping bag. Use a large round nozzle squeeze about 10 -15g of chocolate mix onto a tray lined with baking paper.

Pop in the fridge for 10 minutes to firm up, then remove and roll them between your hands to form balls (we recommend using gloves for this as the chocolate can get a bit sticky as it starts to warm up!).

Once rolled place back on the tray and pop in the fridge to firm up again for 10 minutes.

In the meantime, prepare you desired truffles toppings, we used chopped hazelnuts, cocoa powder and desiccated coconut.

Take a large plate a cover with one of the toppings. Place 300g of dark chocolate in a glass bowl and melt over bain marie to 32°C (it is best to use a thermometer for this).

Then take the chocolate balls out the fridge, dip them into the melted chocolate and roll them onto the toppings covering them completely.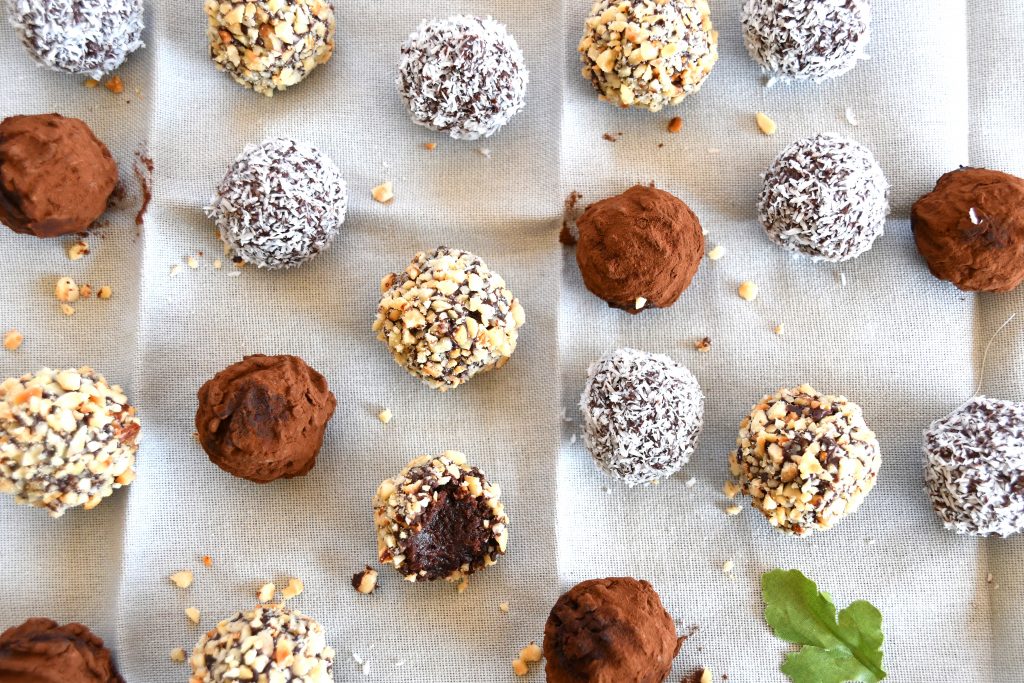 For every recipe we have a matching Spotify playlist to bake along to. Here is this week's baking soundtrack!


from a small bakery nestled on the foothills of the Swiss Alps, we use our creativity and patisserie skills to reinvent your favourite, most indulgent treats with wholesome and nutritious ingredients, so you never have to miss out on the fun!

This recipe was created with love, by
Having worked as a lead pastry chef and baker, Daphne has a passion for pushing the boundaries - she creates beautiful recipes, bringing natural ingredients into the world of pastry and chocolate making, and making sure every recipe is as delicious as it is wholesome.