This recipe makes a smooth and luxurious chocolate mousse that is perfect for a date night or dinner party dessert. It's simple and quick and can be made ahead of time too. Here Freya used our Mint Fondant bar but you could use your favourite flavour from our range of 100g chocolate bars.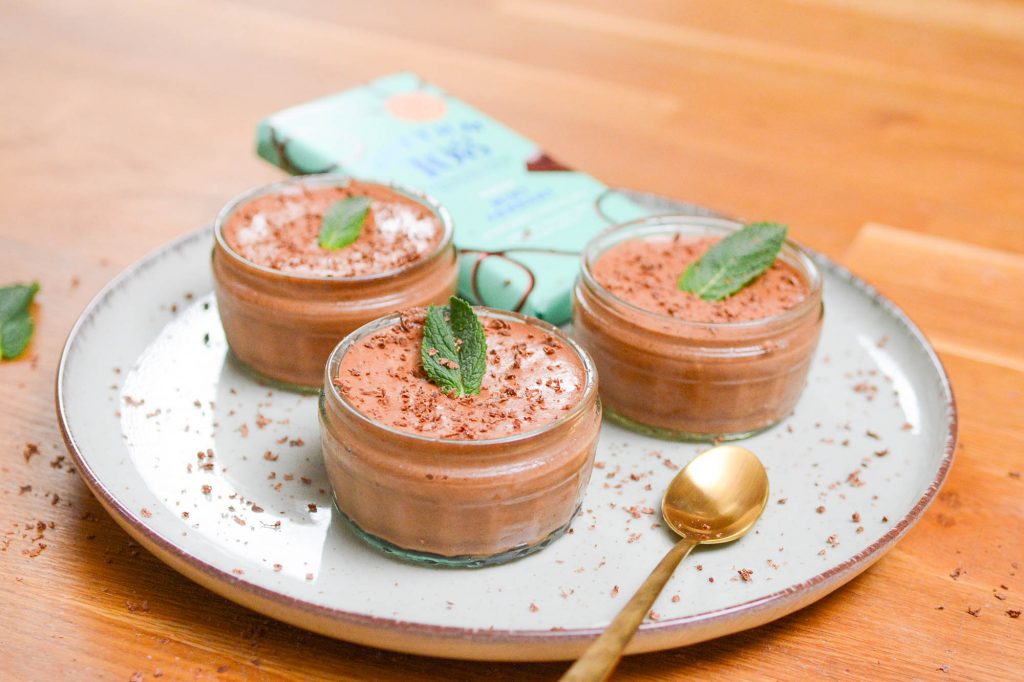 Mint Chocolate Mousse
Ingredients
1

Rhythm 108 Mint Fondant bar

1

tbs

plant milk

100

ml

aquafaba

¼

tsp

cream of tartar

1

tsp

apple cider vinegar/lemon juice

2

tbs

caster sugar
Instructions
Break one square off the Rhythm 108 mint fondant bar and leave this to the side for later. Melt the remaining chocolate, either over a bain-marie, or in the microwave for 30 second intervals.

Add the tablespoon of plant milk into the chocolate, stir until fully combined. Leave to cool until it is as cold as possible whilst still melted. If it is warm when added to the aquafaba it will seize up and become grainy.

Add the aquafaba, cream of tartar and the apple cider vinegar to the bowl of a stand mixer, or a large mixing bowl if you don't have a mixer. Whip on high until it reaches stiff peaks, meaning it doesn't fall if held upside down. Whilst still mixing, add the 2 tablespoons of sugar one spoon at a time until fully incorporated.

Take one tablespoon of the aquafaba and fold it into the chocolate mixture until fully incorporated, then fold this chocolate mixture into the remaining aquafaba one spoon at a time.

Be as gentle as possible so no air is knocked out. Once fully incorporated, divide between the 2 ramekins and allow to set in the fridge overnight.

Use the square of chocolate you placed to the side earlier to grate over the mousse to serve.
Notes
You can use any of our 100g bars to create this recipe, giving you a delicious choice of flavours, plus you can use the topping of your choice as well (zest of an orange, flaked or chopped almonds...)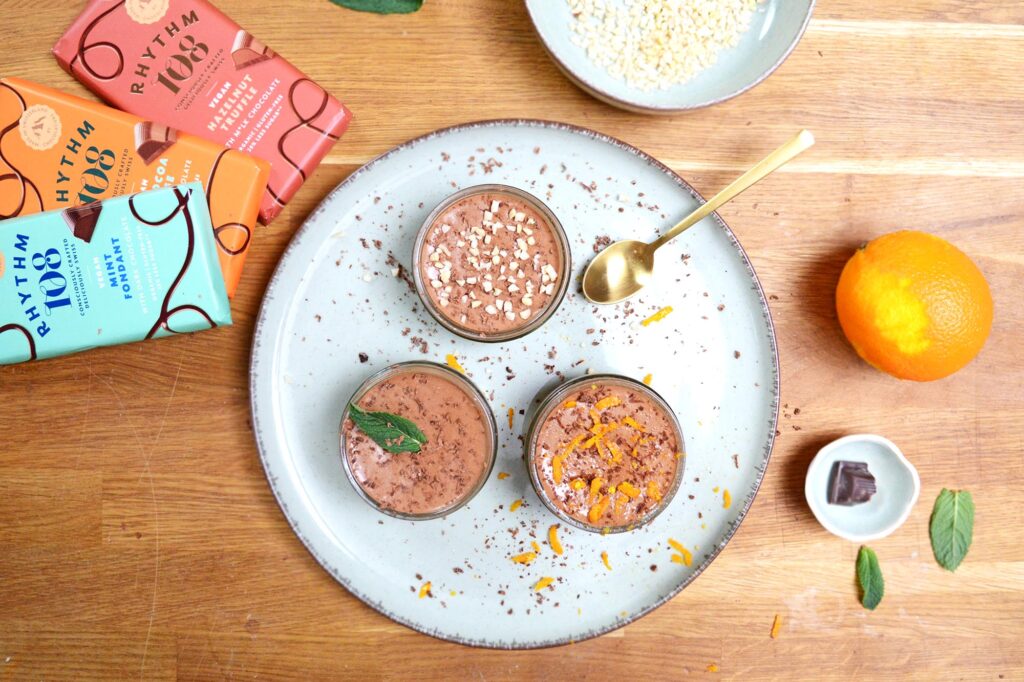 from a small bakery nestled on the foothills of the Swiss Alps, we use our creativity and patisserie skills to reinvent your favourite, most indulgent treats with wholesome and nutritious ingredients, so you never have to miss out on the fun!
This recipe was created with love, by
British Bake off star Freya Cox is an expert baker, making mouth-watering plant based desserts that are just as indulgent and delicious as any other. Freya will be showcasing her skills in a series of bakes over the coming months, so keep an eye out for even more delicious treats.