Let yourself be transported by the sunny taste of lemon and ginger. A recipe inspired by the Lemon, Ginger & Chia biscuits from Rhythm108. Bon appétit !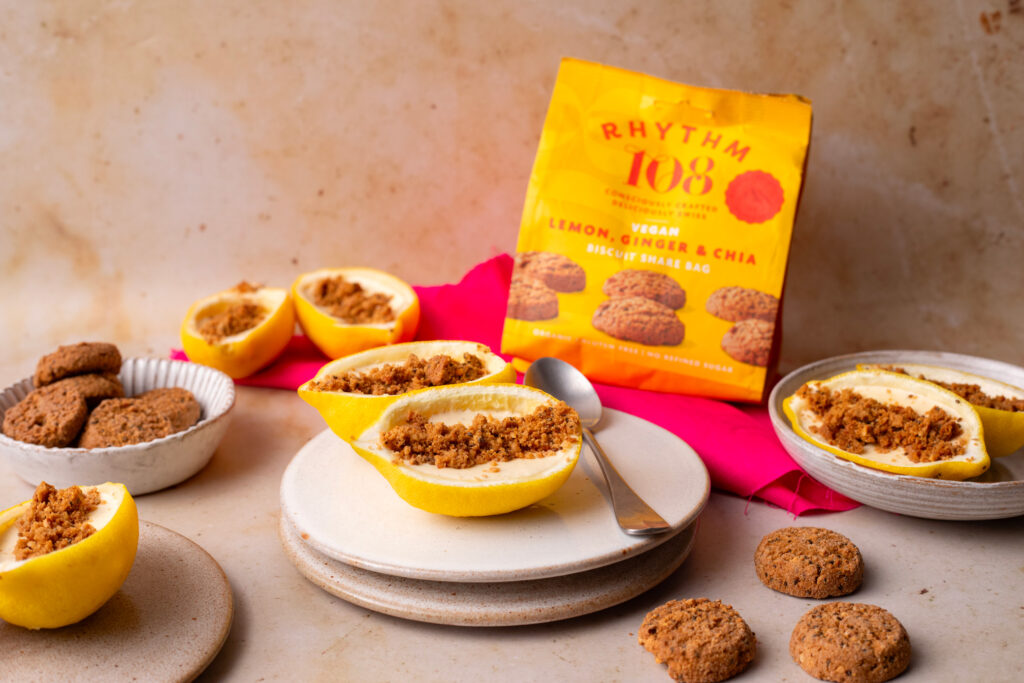 Lemon Posset
Ingredients
750

ml

Vegan Double Cream

4

Lemons, peeled and juiced

170

g

Caster sugar

1

split

Vanilla pod

Rhythm 108 Lemon, Ginger and Chia Biscuits
Instructions
Pour the vegan double cream into a large saucepan and add the lemon zest and sugar. Heat gently, stirring slowly, until all the sugar has dissolved.

Split the vanilla pod and add it to the mix. Continue stirring to allow to vanilla flavour to infuse.

Increase the heat and bring it to a boil. Allow to boil rapidly and bubble up for 4 minutes, taking care that the cream doesn't boil over.

Once 4 minutes has passed, remove the pan from the heat and thoroughly whisk in the lemon juice.

Pour into moulds or glasses and sprinkle the biscuits over the top.

Leave to chill in the fridge for at least 4 hours, or ideally overnight.

from a small bakery nestled on the foothills of the Swiss Alps, we use our creativity and patisserie skills to reinvent your favourite, most indulgent treats with wholesome and nutritious ingredients, so you never have to miss out on the fun!
This recipe was created with love, by