Roasted Almond Butter Chocolate Blondies
The incredible baker WhatLuceEats created this delicious Blondie Recipe using our Almond Butter Bar & new Hazelnut Choc Chip biscuits –perfect for impressing friends and family.
Tried and tested by us at Rhythm 108 HQ, we can confirm they'reas good as they look! Luce uses our newHazelnut Choc Chip biscuits which are now available on Ocado, The Vegan Kind Supermarket and many other independent stores! As with our whole range, youcan also order them at Rhythm108.com.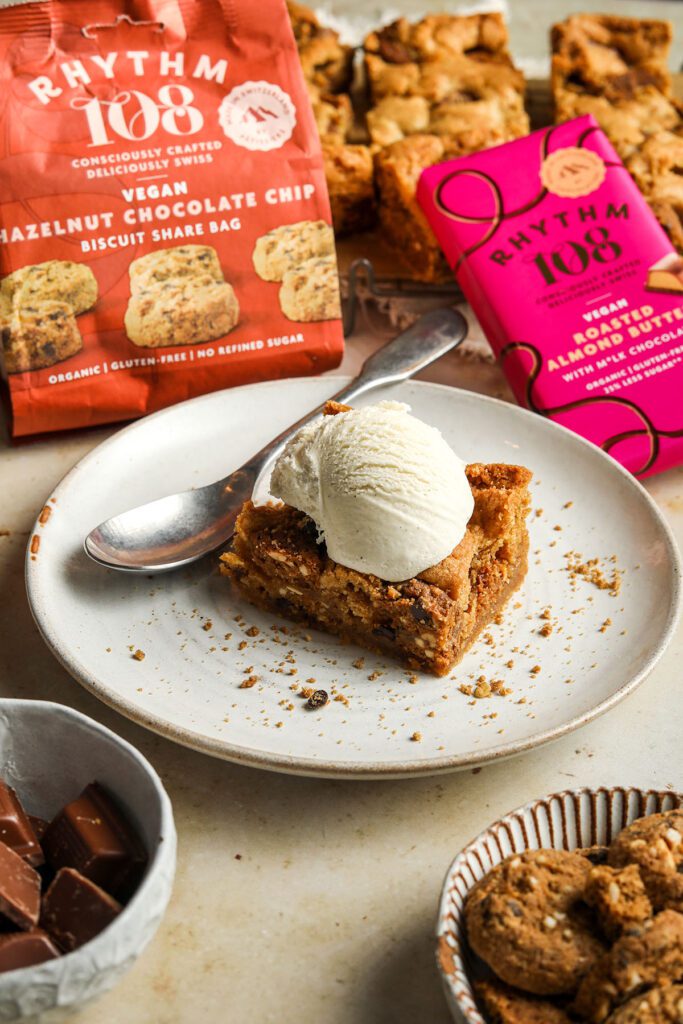 Chocolate Roasted Almond Blondies
Ingredients
200

g

melted dairy free butter

270

g

light brown sugar

1

tablespoon

vanilla extract

90

g

smooth almond butter

250

g

plain flour

1

teaspoon

baking powder

10

g

corn-starch/ cornflour

Generous pinch of salt

100

g

of Rhythm Vegan Hazelnut Chocolate Chip Biscuit

share bag

1

bar

100g Rhythm roasted almond butter chocolate (150g for extra chocolate-yness)

Dairy free ice cream to serve

optional
Instructions
Begin by preheating the oven to 180c and greasing or lining a rectangular

baking tin.

In a bowl combine the melted butter and light brown sugar until smooth and the

sugar has dissolved.

Add the vanilla extract and almond butter and combine again.

Next add the flour, baking powder, corn starch and salt. Mix until completely

combined.

Chop the chocolate squares into halves and break the biscuits roughly into

quarters.

Add 3/4 of both the chocolate and biscuits into the bowl and fold them through

the mixture. Empty the mixture into the tin and flatten into the corners.

Push the remaining chocolate chunks and biscuit pieces into the top, and place

into the oven for 30 minutes to bake.

Allow to cool for at least 20 minutes before slicing. Serve with ice cream should

you wish.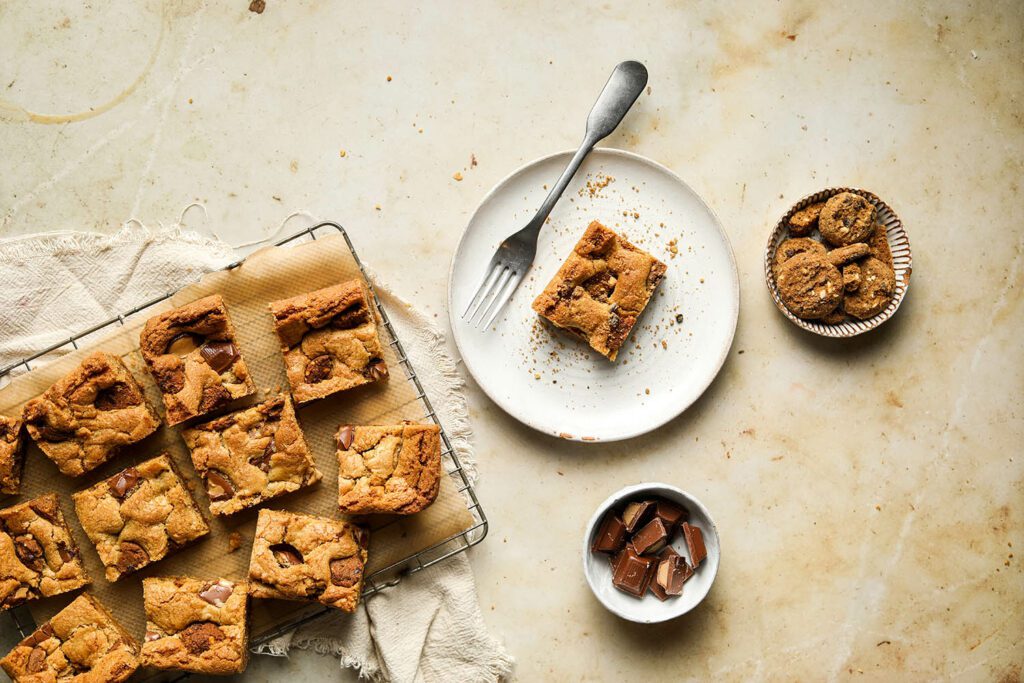 from a small bakery nestled on the foothills of the Swiss Alps, we use our creativity and patisserie skills to reinvent your favourite, most indulgent treats with wholesome and nutritious ingredients, so you never have to miss out on the fun!
This recipe was created with love, by
Luce Hosier is a food blogger and recipe developer, specialising in vegan recipes with a healthier twist.