Chocolate-Dipped Madeleines
A madeleine is a small fluffy, bite-sized cake that is traditionally baked in a tin to give it its beautiful shell-like shape. We make our plant-based recipe with gluten-free flour and then dip in our Swiss melted Roasted Almond Bar, finished it with a sprinkle of chopped almonds.
Perfect for sharing with a mid-morning coffee!
We'd love to see your bakes so tag @rhythm108 and @freyacox_ in your photos on instagram.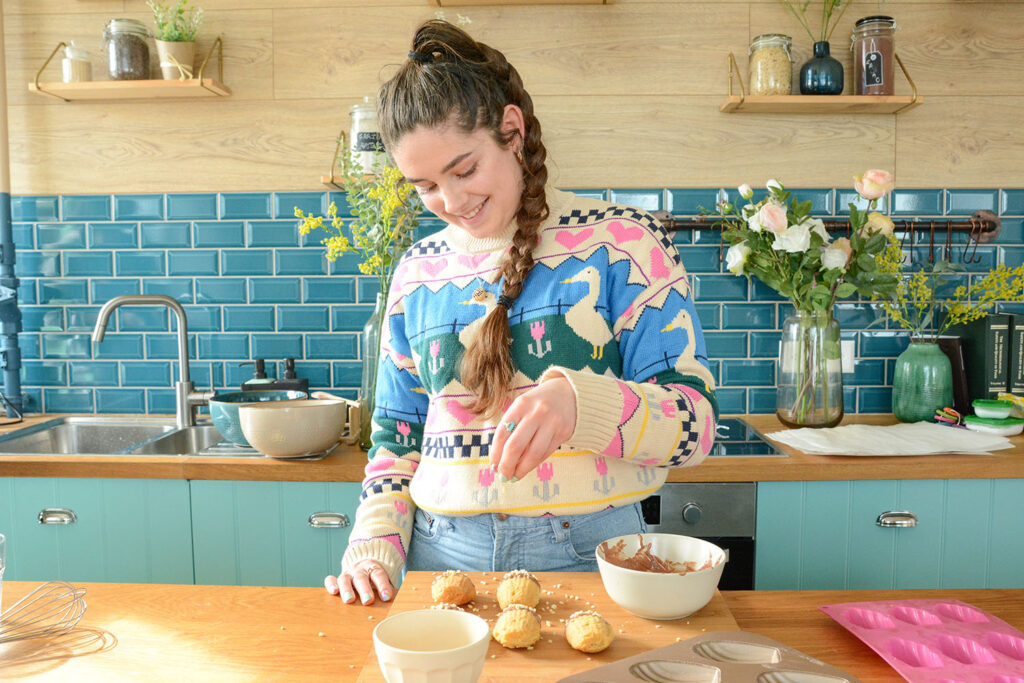 Vegan & Gluten Free Madeleines
Ingredients
For the sponge:
140

ml

soya milk

1

tbs

apple cider vinegar

150

g

gluten free self raising flour

½

tsp

xanthum gum

100

g

caster sugar

½

tsp

baking powder

¼

tsp

bicarbonate of soda

Pinch

of salt

100

g

vegan butter – melted

1

tbs

vanilla extract
Chocolate Shell
Rhythm 108 Roasted Almond Butter 100g bar
Instructions
For the sponge
Place the soya milk in a jug in the microwave for 1 minute to warm through, or alternatively in a pan on the hob. Once warmed through add in the apple cider vinegar and stir, leave to the side to curdle.

In a large bowl, sieve together the flour, xanthum gum, sugar, baking powder, bicarbonate of soda and salt, mix well. Once the soya milk has curdled, add the melted butter and vanilla to the same jug and whisk well. Pour the wet ingredients into the dry and whisk with a non electric whisk until just combined, try not to over whisk. Place the bowl into the fridge to let the batter chill for 30mins.

Grease your madeleine tin with butter and a little flour, then once the batter has chilled, place a heaped tablespoon into each depression. Keep any batter you aren't using in the fridge. Place the madeleine tray back in the fridge to chill for a final 10mins. Preheat the oven to 220c fan.

Once the batter has chilled, place the tray into the oven for an initial 5 mins until you see a hump form on each madeleine, then reduce the temperature to 180c fan, and bake for a further 5-8 mins until a skewer comes out clean. Repeat with the rest of the batter. Leave the baked madeleines to cool on a cooling rack.
For the chocolate shell
Melt the Roasted Almond Butter Bar over a bain marie until smooth, then dip one half of each madeleine in the chocolate.

Sprinkle with topping of choice for extra indulgence , Freya has used chopped almonds here Leave to cool completely to create a hard shell. Enjoy!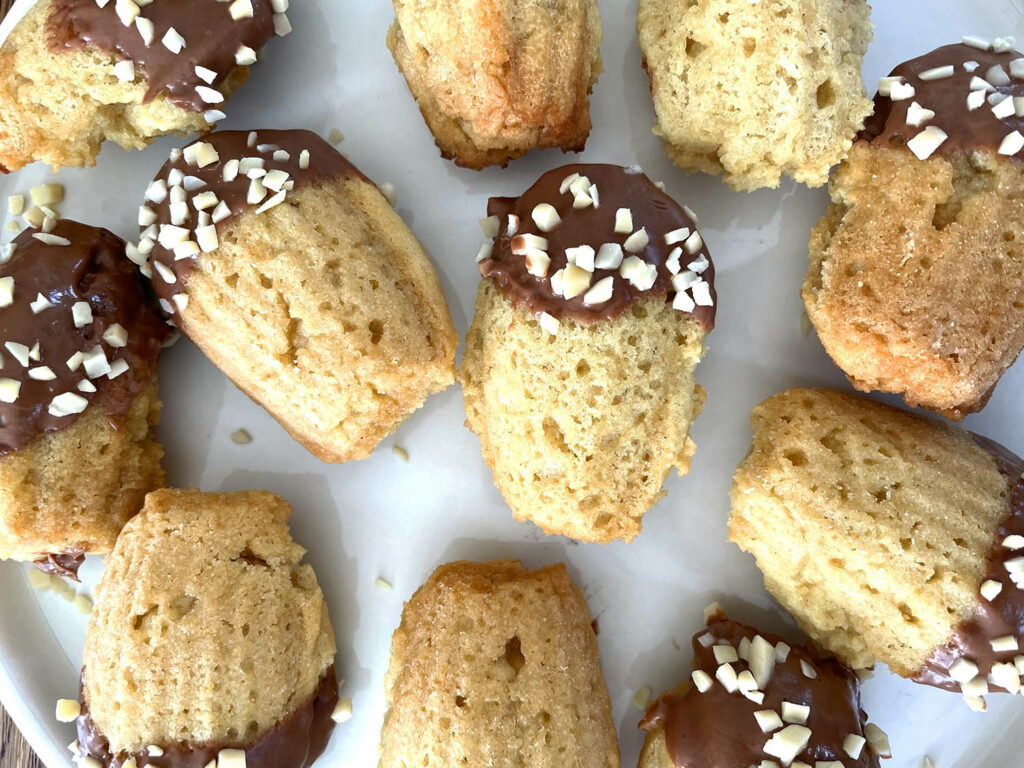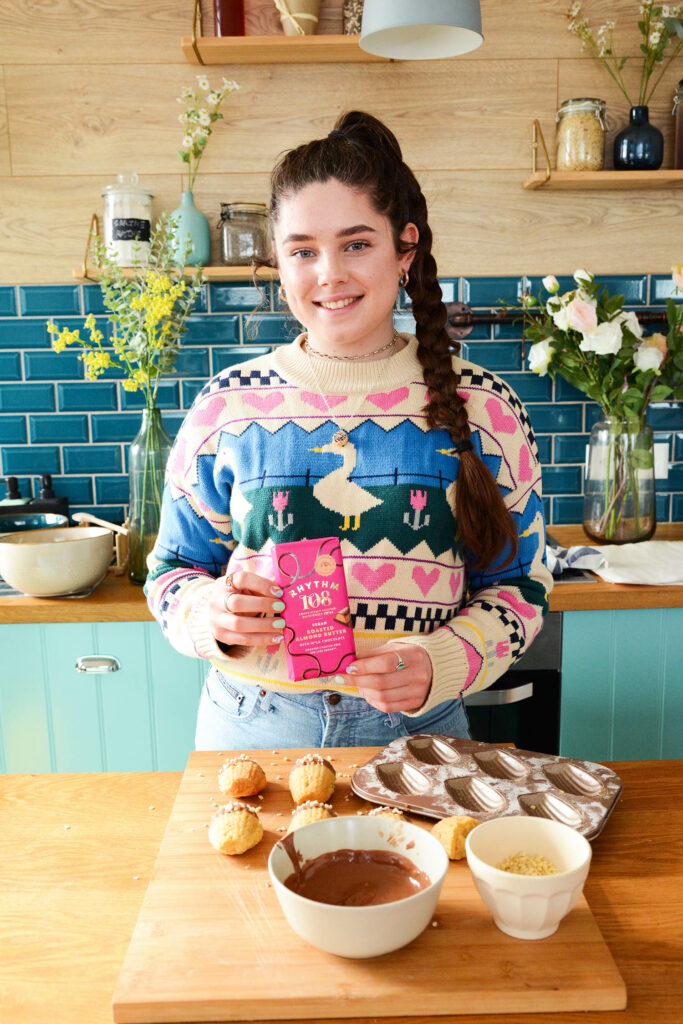 from a small bakery nestled on the foothills of the Swiss Alps, we use our creativity and patisserie skills to reinvent your favourite, most indulgent treats with wholesome and nutritious ingredients, so you never have to miss out on the fun!
This recipe was created with love, by
British Bake off star Freya Cox is an expert baker, making mouth-watering plant based desserts that are just as indulgent and delicious as any other. Freya will be showcasing her skills in a series of bakes over the coming months, so keep an eye out for even more delicious treats.