Salted Caramel Chocolate Pot
The incredible self taught chef, Bettina Campolucci Bordi, from Bettina's Kitchen has created the ultimate dessert. We think is the perfect addition to any Afternoon Tea spread you might be making this summer!
Tried and tested by us at Rhythm 108 HQ, we can confirm they're as good as they look! Bettina uses our Hazelnut Chocolate Praline soft-baked filled cookies and Dark Cocoa Orange chocolate which are available on Ocado, The Vegan Kind Supermarket and many other independent stores! As with our whole range, you can also order them at Rhythm108.com.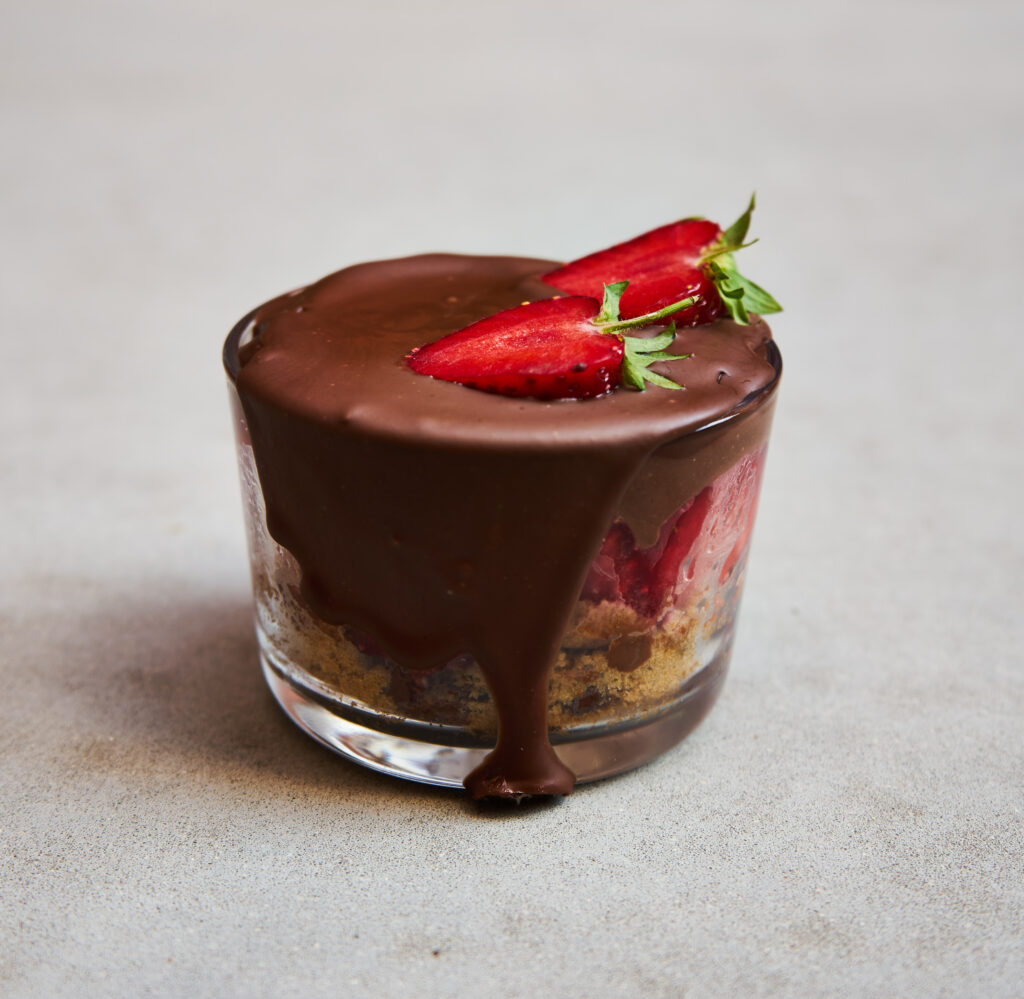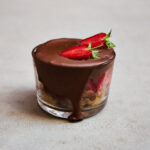 Print Recipe
Salted Caramel Chocolate Pot
This is one of the most indulgent desserts yet, and a real dinner party winner or a cheeky afternoon tea! Contributing to the deliciousness of this recipe, Bettina has used our soft-baked filled cookies and Dark Cocoa Orange chocolate!
Ingredients
320

ml

Coconut Cream

3

tbsp

Runny Peanut Butter or Almond Butter

2-3

tbsp

Maple Syrup

3

tbsp

Cacao Powder

4

Soft-Baked Filled Cookies

100

g

Dark Cocoa Orange

4

thinly sliced

Fresh Strawberries

4

halved

Fresh Strawberries

8

Medjool Dates

1

heaped tsp

Peanut Butter

1

pinch

Salt
Instructions
Make the chocolate mousse by adding the coconut cream, almond butter, cacao powder and maple syrup to a bowl and whisk well to combine. Transfer into a piping bag.

Make the salted caramel by adding the dates, peanut butter and salt to a blender and blitz until a nice smooth caramel. Add a tiny bit more water to loosen if necessary. Transfer into a piping bag.

Melt the chocolate in a bain marie until smooth and runny.

Now to assemble...in 4 clear glasses, put the cookie on the base, then stand the thinly sliced fresh strawberries all around the inner edge of the glass, pipe the caramel later over the biscuit base, then fill the rest of the glass with the chocolate mousse, and finally drizzle a layer of melted chocolate over the mousse. Top with two fresh strawberry halves, then refrigerate until set, for at least 2 hours, before indulging in this deliciousness!

from a small bakery nestled on the foothills of the Swiss Alps, we use our creativity and patisserie skills to reinvent your favourite, most indulgent treats with wholesome and nutritious ingredients, so you never have to miss out on the fun!